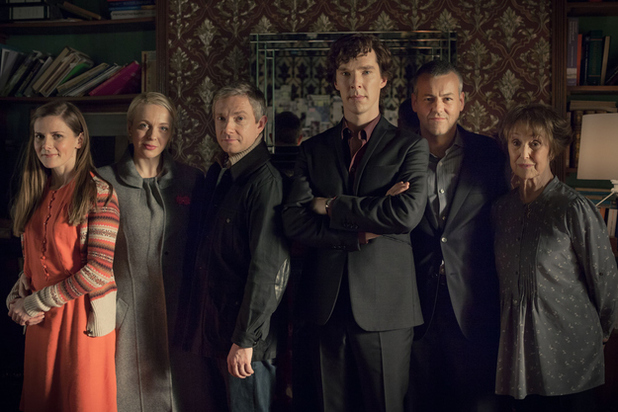 And like that….. he was gone!
Would you believe that three weeks ago we were still wondering how Sherlock somehow survived that fall and his apparent death in the gob smacking finale of season 2.
Now 13 days later,  not only have we had that answer (or did we) but now we have yet another stunning, mouth watering cliff hanger to ponder…… and despite fans left open mouthed and with thoughts running through their mind, there is only one question they want answered….. "When will Sherlock return!"
We have waited for nearly 18 months for the return of Sherlock and on New Year's Day he came back from the dead and it felt like he never went away!  Nothing on TV matches the quality that this show brings.  From the writing to the sparkling twists that are such a delight.
48 hours on and I am still sitting here, shaking like a leaf at the wonderful 90 minutes of brilliant TV that will be impossible to be bettered.   We can bemoan the fact that we have only had three episodes but when the quality is as good as we have witnessed,  then you can only say that the long wait has been worth it.
Yes, we may have to wait yet another 18 months before we see the likes of Benedict Cumberbatch  and Martin Freeman again in the roles that you know they will forever be associated with, but who cares, lets look at it this way.   We have 90 minutes per episode.  That is the same as a movie these days, so you could say that we have been spoiled at the moment.  We've already had six episodes which has resulted in 540 minutes of the highest quality, where the writing has been so sublime that you probably  never get to see again in one show.  Its not one episode….its the entire six……, where the quality never dips!.
Season 3 may have come and gone, but the memories will linger for a long time.  The highlights:
* The opening ten minutes of The Empty Hearse,where we saw how Sherlock survived his death, in an over the top set piece that resulted in every fan thinking "what a load of old bollocks!", only to have the rug pulled from us when a voice over blasted out the word "bollocks!" which we found out it was only a theory from a policeman.
* The casting of Amanda Abbington in the role of Mary.   It was hard for anyone to step in between the dynamic of Holmes and Watson, but to fair to Abbington she done it in with a verve of energy and that twist in the final episode in which she was revealed to be an assassin and shot our Sherlock was brilliantly played out….simply because it went against the norm, when we later found out that she was actually part of the good guys!
* The entire second episode "The Sign Of Three".  Yes it may have had its critics but damn people seem to miss the one single point.  Cumberbatch was virtually in every single scene and it was such a powerhouse of a performance that you can't help but marvel at just how great of an actor he is and how brilliant he is as Sherlock.  Make no mistake, when Sherlock ends for good, its this episode you would say brought the best out of him and re-watching it now, after the events of what happened in the next episode, gives it even more of an edge.
* The drunk sequence…… do I need to say more……
* Lars Mikkelsen as the evil Charles Augustus Milverton.   Words can only describe just how good he was in the final episode, that finger flicking scene was just uncomfortable, dark but brilliant!
* THAT FINAL TWIST!…………
Maybe Sherlock the show was never meant to be such an evil bastard when it comes to leaving its fans on a knife edge at the finale.   It all started in Season One where were left with Sherlock pointing his gun at a bomb with Moriarty and Watson looking on.   Of course Season two bettered it with Sherlock dying only for him to be seen very much alive at the end, leaving fans frustrated knowing they have a long wait until they find out how he did it.
We were told that Season 3 would better that ending!
"Impossible!" we shouted back.  But damn they tried and to be fair they matched it!
The sudden appearance of the "dead" Moriarty on a TV screen has left fans in a state of shock.   Could his arch nemesis also have faked his death on top of that roof top?
"They did not fake suicide at each other. Imagine how stupid you'd feel if you bumped into each other! 'What, you too?!' He's dead."
– Steven Moffat
Those are the words spoken by the co -creator of Sherlock, but we all know Moffat is a liar.   His stint on Doctor Who where he has said one thing and done another is the main reason why we know that Moffat is a canny writer who doesn't give much away.  But even he knows that bringing back Moriarty could be a "jump the shark moment!" and would need every fan to swallow a huge amount of common sense.  We saw Moriarty put the gun in his mouth and pull the trigger.  We saw the blood and his dead body, do we actually believe that even he staged all that?   If he did die then how is he back.
Well the blueprint for all this is of course Jigsaw in the SAW franchise.  He too died in chapter 3 but came back in every sequel, playing a game after his death, much to the frustration of those trying to stop him.  Its not hard to imagine Moriarty, being the clever guy he is, doing the same. planning for trouble after his death would be the ultimate revenge, I mean how could Sherlock stop his arch nemesis if he is already dead?
But then what if its all a big plan?  What if the Moriarty we know of is not the actual Moriarty and was just a hired hand?  A bit like in Iron Man 3 when Mandarin was revealed not to be the guy we all thought he was.  What if Moriarty is still behind the scenes?  Looking in, pulling the strings?
Its these theories and more that has resulted in the Internet being in meltdown.  No one does endings like Sherlock and yes its frustrating that we now have to wait another 18 months to find out what the "Miss Me?" actually means.  But the fun starts all over again, endless debates between now and 2015…..
Moriarty may have uttered the words "Miss me?" over and over, but its actually Sherlock who we will miss…..
The countdown starts now…….
Ross Hughes