Incredibly there is not a huge amount of horror film specifically themed around the Halloween holiday, so it was actually a little difficult to get a top ten, and I have had to cheat with one none horror, and one kids horror. However, below you will find my top ten list of what I believe is the ten best Halloween themed horror films.
Enjoy!
10- ParaNorman (2012): Directors Chris Butler, Sam Fell
Laika Entertainment scored a massive hit with children and adults alike with Coraline, and followed that up with the equally fun ParaNorman, the Halloween set animated film about a young boy named Norman. However, Norman is unlike any other kids as he has the ability to talk to the dead, and subsequently, Norman's gifts come in handy to save his town from an age old Witches curse. Great comedy, some genuinely creepy scenes at the end, and a rip roaring yarn from start to finish. Laika Entertainment have become the go-to company for adult themed children's entertainment.
9- Donnie Darko (2001): Director Richard Kelly
While not exactly a horror film, Donnie Darko is a dark, moody and incredibly intelligent time travel thriller, and it just so happens to be set around the build up to Halloween, so deserves to be on this list. Donnie (Jake Gyllenhaal) is plagued with visions of a giant monstrous bunny named Frank, worm holes and all sorts of weird and wonderful things following a plane engine crashing on his house. The film gets weirder and weirder, more confusing, and then lets rip with a blinding finish that brings everything together, but you will have to be smart to figure it out in one sitting. Great Halloween vibe to the film, with Gyllenhaal and the supporting cast doing superb work with Richard Kelly's amazing creation, Donnie Darko has well and truly earned the name 'classic'.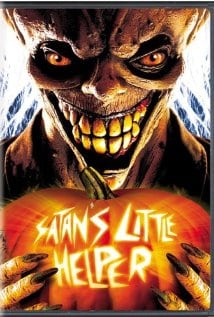 8- Satans's Little Helper (2004): Director Jeff Lieberman
It has been ten years since I saw this horror feature, so I don't remember much of it, but I do remember thoroughly enjoying it. It is themed wholly around Halloween, features a serial killer in full costume, some jealous boyfriend nonsense, plus an unbelievably hot Katheryn Winnick as the love interest, so what more could you want?
7- Halloween III: Season of the Witch (1982): Director Tommy Lee Wallace
The Halloween sequel that bravely did not feature Michael Myers, and instead went off in a completely new direction, but kept the story well and truly set on Halloween night. In this third film we get a sinister Halloween mask making company with big plans for mass murder, some awesome gross-out moments, some superb cheesy 80's dialogue and that all so brilliant song that will never die: "two more days to Halloween, Halloween, Halloween. Two more days till Halloween, Silver Shamrock!" Still sung to this day by Halloween fans the world over.
6- Halloween (2007): Director Rob Zombie
So many fans hate Rob Zombie's version of the classic John Carpenter horror, but I will not apologise for saying that I like it, and I like it a lot. Zombie did his best to pay tribute to Carpenters timeless classic, while injecting his own backstory for Michael Myers, and adding some of his signature violence, grotty characters and vicious music. In no way is it better than the original, but it can certainly be classed as an extremely powerful and very good horror feature, with a director who not only had the balls to tackle such a beloved classic, bit also add his own spin on things. Probably the most hated choice in my list I reckon, but it's my list, and I truly believe this film deserves its place.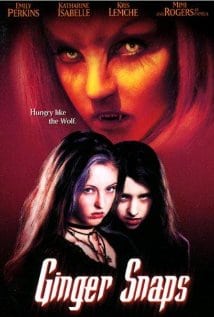 5- Ginger Snaps (2000): Director John Fawcett
Not only did Ginger Snaps introduce the wonderful Katharine Isabelle to the horror genre, it has also become the stuff of legends, and one of the finest werewolf films ever made. The film is about two sisters, one of which is bitten by a werewolf, and all is about to kick off come the end of the month, which also happens to be Halloween. The film deals with how two outcast sisters deal with school, and moves on to jealousy as Ginger (Isabelle) begins becoming a monster, but also has a heightened popularity at school thanks to turning into a sexy, confident teen who everyone wants to befriend, not knowing that they could soon become Ginger's dinner!
4- VHS (2012): Various directors
The first in the now hugely popular found footage horror trilogy, the first VHS was a mixed bag of the truly awesome (Amateur Night) to the horrendously rubbish (Tuesday the 17th). The reason the anthology is on this list is thanks to the last segment. Titled 10/31/98, the stunning final segment was directed by the collective known as Radio Silence, and featured a group of mates heading to a Halloween party with a difference. With their handheld camera, they discover no Halloween party in sight, but in the attic some chilling rituals are going on. This then leads to some of the best horror moments of 2012, as the house literally comes alive, and the friends (still filming) try to get out alive.
3- House of 1000 Corpses (2003): Director Rob Zombie
The second entry for Rob Zombie, House of 1000 Corpses features a bunch of mates travelling the back roads of Texas looking for famous murder sites and urban legends. After meeting the now infamous character Captain Spaulding (Sid Haig) the friends are pointed in the direction of a house which is home to The Firefly Family. After a welcome celebration, the friends soon discover the family have other intentions, and things get very, very nasty and Zombie quite literally lets rip with some of the most insane horror you will ever see. The thing I love about this film is that it does not hold back, at all, and relishes in its darkness and violence. At times it feels as if Zombie is testing his audience, seeing just how much they can take, and if you are a fan of strong horror, then this film is an absolute must for your collection.
2- Trick R Treat (2007): Director Michael Dougherty
Trick R Treat has become something beloved by horror fans, with many having this film top their lists over the one and only King of Halloween horror. I enjoyed Trick R Treat, but it took me at least two viewings to really buy into the anthology of short Halloween themed short stories. Saying that though, the collection of stories are all a ton of fun, feature a great cast, and whizz along at a great pace which means the anthology never gets dull. The four stories perfectly capture the Halloween spirit, and while they do make out that the holiday is certainly a dangerous one, it also gives the feeling of togetherness and a huge sense of fun. If you are doing a Halloween marathon, this is a must.
1- Halloween (1978): Director John Carpenter
The night he came home: Halloween is director John Carpenter's finest moment, with an engrossing story, a family tragedy, a groundbreaking yet simple score, and one of the finest boogeyman ever put to film. That's before we even get to the flawless performance by a newbie actress, Jamie Lee Curtis. Halloween invented the slasher, reinvented horror and has become one of the most influential and important horror films ever made. The town of Haddonfield were always happy to celebrate Halloween, until one night Michael Myers returned to have some more fun killing the local residents after being institutionalized from a very young age. His Dr (a superb Donald Pleasance) is hunting him down, warning of what a monster he has become. As if the film was not groundbreaking enough, with its quiet build up, haunting pace and some of the most chilling scenes ever put to film, it also made a horror icon out of Star Trek's William Shatner, as Myers chose to wear a Shatner mask to cover his face. Classic stuff, and one of the finest horror films of all time.