Jackass Presents: Bad Grandpa (2013)
Directed by: Jeff Tremaine
Written by: Adam Small, Fax Bahr, Jeff Tremaine, Johnny Knoxville, Spike Jonze
Starring: Greg Harris, Jackson Nicoll, Johnny Knoxville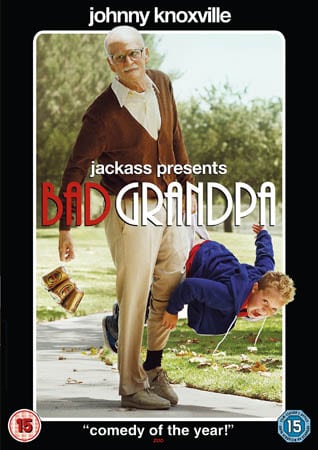 JACKASS PRESENTS: BAD GRANDPA (2013)
Directed by Jeff Tremaine
86 year old Irving Zisman is overjoyed when his wife passes away. Finally, he can now go on the hunt for some poontang. Irving's plans for sexual conquest are dashed when his daughter lumps him with grandson, Billy. After arranging for Billy to go live with his deadbeat father, Irving sets off on the roadtrip to North Carolina with his 8 year old grandson but not without getting into some trouble of their own first.
If you've ever seen stunt prank series, Jackass, then you'll know what you're getting into with BAD GRANDPA. Starring a heavily and convincingly made-up Johnny Knoxville as Irving Zisman, and young Jackson Nicholl as his grandson Billy, the two prank real people with their crazy situations in what is essentially hidden camera sketches bound together by an overarching narrative.
Whilst BAD GRANDPA isn't as dirty, crazy or rude as the Jackass series, it still has a lot of naughty humour in it and doesn't waste time getting stuck in. After the death of his wife, a sexually frustrated Irving searches for an open strip club or massage parlour to no avail, but what he does encounter is the next best thing: a vending machine. I'll leave that thought with you there but what results is hilarious, pain-induced and visually horrifying, for both the viewer and the innocent bystanders who don't know whether to laugh or wince. This followed by sketch after sketch of Irving and his grandson Billy pranking people from all walks of life, be it as a duo or on their own. We all know Johnny Knoxville is a professional when it comes to pranking but young Jackson Nicholl shows great acting chops too for such a young age. Jackson stays in character throughout and doesn't once give the game away. Having seen the behind-the-scenes documentary, Bad Grandpa .5, his ability to keep a straight face is astounding.
From slapstick injuries, albeit extreme ones, to arguments with the public and just unreal situations, there's plenty of moments to keep you giggling. These scenes of mayhem are intertwined with the story of Irving dealing with the death of his wife and the funeral arrangements as well as dropping off Billy with his father, despite Billy wanting to stay with his grandfather instead and go fishing. These little heartwarming moments break the sketches up nicely, though it's not long before you're snorting with laughter again.
The pinnacle of BAD GRANDPA has to be a beauty pageant scene towards the end of the movie. If you've seen the trailer, you know what happens, but the scene is side-splitting to watch and the reactions of everyone around are equally funny. This particulary scene is probably the funniest of the movie and is worth its weight in comedy gold.
If you like a bit of toilet humour and love hidden camera type shows, then do check out BAD GRANDPA. It's a hoot.
Rating: