Avenged, Savaged (2013)
Directed by: Michael S. Ojeda
Written by: Deon van Rooyen, Michael S. Ojeda
Starring: Amanda Adrienne, Ronnie Gene Blevins, Tom Ardavany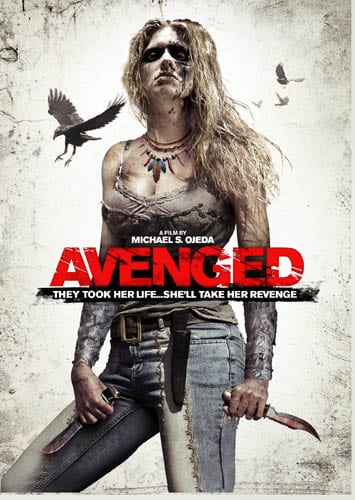 AVENGED (2013)
Directed by Michael S. Ojeda
A young deaf woman named Zoe embarks on a road trip to New Mexico to live with her fiance but along the way is kidnapped, raped, tortured and left for dead by some local rednecks. Discovering her body in the desert, an apache Indian takes her back to his camp and performs a revival ritual. Revived along with the spirit of Red Sleeves, an Apache Chief who was murdered a century ago, the young woman roams the desert town once again but this time for revenge against those who harmed them both.
Revenge horror thriller AVENGED opens with touching scenes of a mother who's excited but also worried about her daughter flying the nest and going to start a new life with her fiance. Her particular concerns appear to be the long drive through the deserted landscapes which are known for horrible happenings but Zoe, a cheerful and optimistic young woman, is more excited than ever to make this leap. Though predicatable in how things will play out for Zoe, the film surprises with its own twist and variation on the revenge story, transforming Zoe into a supernatural force, but like all good things, the revival comes with a price.
One of the key things of a revenge tale such as AVENGED are the characters. Zoe, played by Amanda Adrienne, is a likable young woman. Even though she doesn't have much indepth character interaction in the early scenes, her lust for life is contagious and her excitement is shared by her fiance Dane (Marc Anthony Samuel). When she accidentally bumps into the villians of the piece, their ruthlessness and disregard for human life makes them an easy set of antagonists to hate, particularly Trey (The Walking Dead Daryl lookalike Rodney Rowland) and West (Tom Ardavany). Their disgusting treatment of others and murderous tendancies make them ideal candidates for a set of brutal revenge killings and AVENGED certainly serves up a whole dish of them. It's certainly a good job Zoe has apache Indian Grey Wolf (Joseph Runningfox) looking out for her.
The transition from optimistic adventure to living nightmare is pretty quick which displays just how suddenly life can fall downhill. From an entertainment point of view, I'd have loved there to have been just a few more scenes to establish the character of Zoe before all hell breaks loose however subsequent scenes later in the film do a good job in conveying Zoe as a person even though she's half possessed by a disgruntled Indian Chief baying for blood.
Horror and exploitation fans will be in their element with the gut wrenching horror. Authentic to the Apache theme, revived Zoe uses weapons which Indians are renownedly skilled with, such as the bow and arrow, small axe and knife which really adds a unique style to the movie. Lots of close quarter combat with stabbing, impaling and even a cringe-worthy scene of being run over gives a physicality to the movie which really emphasises the danger and brittle mortality of the lives on screen.
Whilst some of the characters are slightly charicaturish, especially the gun-toting, racist bigots, it fits the movie well. A meatier script and some extra scenes to flesh out the story away from the violence would have helped to pack a heavier punch, but it entertains as a blood-thirsty horror as it is.
Great performances combined with an Apache twist on the familiar road movie revenge thriller storyline, AVENGED is worth a watch.
Rating: