Automata (2014)
Directed by: Gabe Ibáñez
Written by: Gabe Ibáñez, Igor Legarreta, Javier Sánchez Donate
Starring: Andrew Tiernan, Andy Nyman, Antonio Banderas, Birgitte Hjort Sørensen, Dylan McDermott, Javier Bardem, Melanie Griffiths, Robert Forster, Tim McInnerny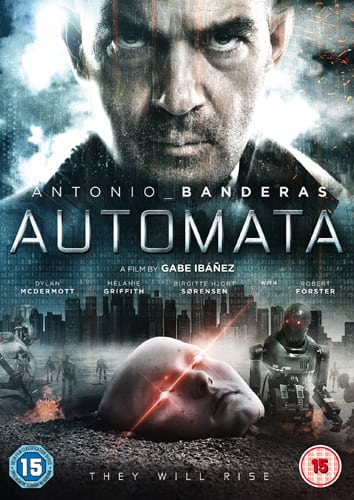 AUTOMATA (2014)
Directed by Gabe Ibáñez
The year is 2044. The human race is struggling to stay alive with the environmental changes the Earth has suffered. Only 21 million people have survived globally. Helping them to survive and rebuild the scorched world are Pilgrim 7000 robots designed by man. To protect mankind, the robots have been securely encoded with two protocols: the first, to never hurt humans and the second, to never alter their own or another robots programming. When ROC robotics corporation insurance investigator Jacq Vaucan is assigned to a case of a robot found repairing itself, he begins to track down the clocksmith responsible for the bot's reprogramming. What Jacq discovers will affect mankind forever.
Spanish star Antonio Banderas stars as the shaved-headed ROC insurance investigator Jacq who's feeling burnt out and sick of the life he's stuck in. With a loving wife and a baby on the way, he longs to move to the coast to be near the sea and to feel the fresh sea breeze on his skin. With his currently life and situation, he sees no future or hope for his family and yearns for positive change. When the self-repairing robot case lands in his lap, he knows there's more to the situation than meets the eye. Discovering items hidden by the robot, Jacq meets up with the man who witnessed the robot's actions first-hand – Sean Wallace.
Actor Dylan McDermott looks as though he never left the set of futuristic cult sci-fi flick Hardware as he features in similar attire as police officer Sean Wallace who shoots and destroys the Pilgrim 7000 he found self-repairing. Everyone thinks Wallace is crazy but Jacq believes there's truth to what Wallace said happened and begins to investigate if such programming could be altered and if so, who's reponsible and for what purpose. With help from Dr Duprè (Melanie Griffith) and a robot named Cleo, Jacq sets out on a quest to discover the truth but the answers he finds may have repercussions.
The ideas conjured up in AUTOMATA are nothing we haven't seen before but the idea of artificial intelligence and machines becoming self-aware and evolving into something much more is presented so beautifully in this movie. The visuals of a bleak future for humans with only machines giving hope to mankind makes the viewer question whether we're just another animal waiting to become extinct much like the recent West African Black Rhino. With a restricted lifespan and certain environmental requirements necessary for us to thrive, shouldn't we be grateful that we can create something that can live on beyond our lifetime as a lasting legacy of the human race? These are some of the questions presented to the viewer in a movie which oftens depicts the robots are more colourful and charismatic than the humans they operate amongst.
The joy with these types of movies is that they make decent repeated viewing especially with company to fuel thought-provoking discussions. A fine performance from Antonio Banderas in the lead makes this an entertaining watch as well as an intriguing one, with a well-paced narrative, slick shots and awe-inspiring visuals throughout.
Definately worth a watch if you're into your sci-fi and A.I. thrillers.
Rating: