The Last Knights (2015)
Directed by: Kazuaki Kiriya
Written by: Dove Sussman, Michael Konyves
Starring: Aksel Hennie, Clive Owen, Morgan Freeman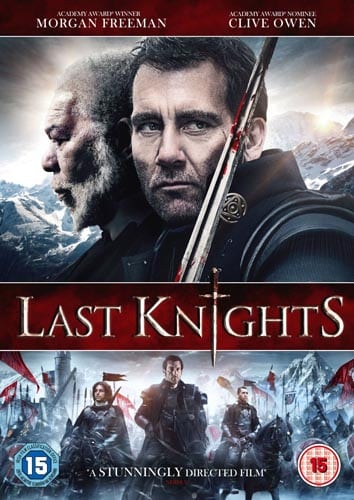 THE LAST KNIGHTS (2015)
Directed by Kazuaki Kiriya
When nobleman Lord Bartok is summoned before the Emperor's council to discuss revised rules and taxation, he decides that he will no longer comply with council member Gezza Mott's demands for a bribe in order to keep his lands. When the two finally meet, Mott is furious with the lack of a substantial 'gift' and attempts to kill an ailing Bartok. When Bartok manages to fight back and injure Mott, he is arrested and presented as a prisoner in front of the Emperor. Harming a member of the Emperor's council has a dire consequence but after Mott intervenes, the punishment is more severe when Bartok's second-in-command, army commander Raiden is forced to commit the punishment personally. With Bartok dead, the lands and family name cease forcing everyone in the Bartok grounds homeless and Bartok's army to disband. However, a small group of soldiers decide that they will get their revenge for their fallen master.
THE LAST KNIGHTS is a breathtakingly thrilling period war drama from Kazuaki Kiriya. It depicts a tale of honour which transcends nationality and race with its plot and casting and focuses on the loyalty to which a few men hold in their hearts and with which they called themselves warriors.
Clive Owen heads up the cast as Commander Raiden, a fierce warrior with a dark history but someone who's overcome his demons to become a success and a feared soldier. His loyalty to the kind-hearted Lord Bartok (Morgan Freeman), who's sick and tired of having the corrupt Capital tearing their lives apart, is unwavering and Bartok knows that he can trust Raiden to do as he is asked by way of the Warrior's code, a code which few warriors outside his army adhere to. Standing in Bartok's way of a peaceful life and squeezing everything he can out of the nobles is slimeball councillor Gezza Bott, perfectly portrayed by Aksel Hennie, who's nastiness and greed has made him public enemy number one. The lengths he will go to have his way show no end and with fear of reprisal, he surrounds himself with as much security as possible. Daniel Adegboyega (Skyfall), Cliff Curtis (Die Hard 4.0) and Ayelet Zurer (Bnei Aruba (Hostages)) are just a few who round up the stellar supporting cast.
Whilst it's a tale about an army and obviously has its share of terrific fight scenes, THE LAST KNIGHTS plays very much on the emotional angle, much like the HBO series Rome did, and it is that which stirs up certain feelings from the viewer and makes the most impact. The characters each have depth and substance and the journey from A to B is executed so well, you'll be either cheering them on or damning them to the depths of hell. The film even has a few unexpected moments which, as a film fan, I certainly relished and which made for all the better viewing.
With attention to detail in all areas, from wardrobe to score, and an engaging script, THE LAST KNIGHTS is a stylish must-see for fans of medieval action drama.
Rating: