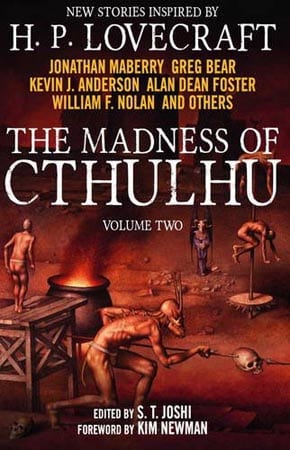 Titan Books will be publishing THE MADNESS OF CTHULHU: VOLUME TWO on 20th October 2015 in paperback and eBook format.
Taking inspiration from H. P. Lovecraft's seminal masterpiece At the Mountains of Madness, S. T. Joshi collects together sixteen original pieces of Lovecraftian fantasy that tackle the title's underpinning themes of doomed exploration, remote terror, and cosmic horror.
Featuring an introduction from Kim Newman, author of the Anno Dracula series, The Madness of Cthulhu: Volume Two brings together some of the most powerful and important voices in contemporary horror today, all of whom have been hand–?picked by Joshi himself.
S. T. Joshi is a leading authority on H. P. Lovecraft, Ambrose Bierce, H. L. Mencken, and others. He has edited the definitive restored editions of the works of Lovecraft, several annotated editions of Bierce and Mencken, and has written such critical studies as The Modern Weird Tale. His biography H. P. Lovecraft: A Life won the Horror Writer Association's Stoker Award for best non fiction.
The Madness of Cthulhu: Volume Two features stories by:
Kevin J. Anderson
Laird Barron
Erik Bear and Greg Bear
Alan Dean Foster
Jason C. Eckhardt
Cody Goodfellow
Karen Haber
Mark Howard Jones
Nancy Kilpatrick
Jonathan Maberry
William F Nolan
Brian Stableford
Steve Rasnic Tem
Donald Tyson