River (2015)
Directed by: Jessica Hobbs, Richard Laxton, Tim Fywell
Written by: Abi Morgan
Starring: Adeel Akhtar, Eddie Marsan, Georgina Rich, Lesley Manville, Nicola Walker, Stellan Skarsgård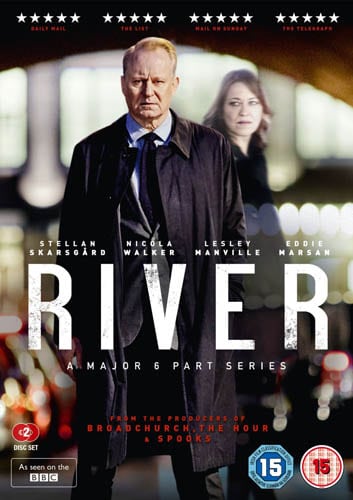 RIVER (2015)
Six Part TV Series Review
On DVD and Blu-Ray from 30th November 2015

Brilliant but psychologically troubled Detective John River is struggling to come to terms with the murder of his colleague and friend Stevie. After discovering the vehicle he believes was driven by the murderer the night of Stevie's death, River attempts to apprehend the driver but instead opens a can of worms that will reveal truths and secrets about that of the murderer and that of his best friend Stevie, someone who River thought he knew inside out. Plagued by visions, manifests of the memories and facts he believes are true, of those that are on the edge of life or have passed leaves River walking a constant tightrope between being an exceptionally skilled police detective and someone who's losing grip on reality. If he's to find Stevie's killer, he must control his visions and use his own way of seeing the world to unearth the motive and culprit of Stevie's murder.
Six part BBC series RIVER is an utterly captivating, dark crime thriller from The Iron Lady screenwriter and Shame writer Abi Morgan. Splitting its storyline between a murder investigation and the characters and their relationships, both inside and outside the workplace, the series throws the viewer into a living, breathing world where each person and their lives matter.
With one of the cleverest openings I've ever seen in a series, RIVER grabs your attention from the very start. From singing Tina Charles' "I Love to Love" in the car to grabbing a burger at the drive-thru, the characters are laid back and act so natural, with dialogue to match, that it's easy for the viewer to invest in them instantly. Writing characters that feel real and part of our world is Morgan's greatest accomplishment and this series is no different.
Swedish actor Stellan Skarsgård heads the British thriller as the unique detective John River, a role that was absolutely made for him and his acting talents, such is the way he expertly plays this complex character. Apart from River's visions, which sees River muttering to and interacting with invisible beings, he's a deeply reserved man who's not in touch with his feelings at all. Growing up through a troubled childhood, he has no friends, no lovers and no-one to depend on, with Stevie being the only person he'd ever truly called 'a friend'. Now that she's gone, River finds it difficult to live his own life and won't stop the hunt for the killer of his beloved colleague. The only solace he receives is when the manifest of Stevie appears and talks to him, whether it's to help with the investigation or to wind him up about how many WeightWatchers points are in mayonnaise. This break from our reality to his own reality is just what he needs to stay focused but as the investigation into Stevie's death progresses, he begins to lose sight of the manifests of Stevie as she becomes ever further out of his reach. Instead, a manifest of the darkest part of River comes to the surface, played by the fabulous Eddie Marsan, and seeks to replace Stevie as River's most common vision, a manifest which River desperately tries to rid himself of. With him clutching onto the good visions and unleashing anger towards the malicious ones, River endangers his career with his job hanging on the outcome of a psych evaluation.
The stellar writing hasn't just drawn the attention of Hollywood star Skarsgård but also an exceptional British and Irish cast. The fantastic Nicola Walker, from Spooks fame,  stars as murdered detective Stevie and although in most roles that would mean next-to-no screen time for the actress, thankfully we get plenty of snippets of Walker's character. The chemistry between Skarsgard and Walker as River and Stevie is something special. It's clear to see from the first second of the series that these two characters have a bond like no other. They are true soul mates and the way Stevie lights up River's life is beautiful and heartwarming to watch. We see what a shell of a man he is without her there and how his grief and loss, of the only person he's ever really cared for, disappears as soon as he sees her, even if she's only a manifest of his memories. Only she can truly make River smile and laugh, a very rare thing to see indeed. From the manifests, we can see she was a warm person who enjoyed having a laugh, eating take-away food and playfully winding up River, but it seems even she kept some things a secret from those around her.
Other cast members include Adeel Akhtar as Ira, the 'original Gaza strip', who bounces off River well as a straight-laced, dry-humoured, nerdy detective who sympathises with and looks up to new partner River whilst trying to keep him on the straight and narrow when River's visions get the better of him. Ari knows he can't replace Stevie and doesn't want to, but wants to help and be a friend to River and is a good one at that though River is too grief stricken to realise.  There's a selection of strong female characters too, besides Stevie of course, with Chrissie, River's superior played by Lesley Manville, and psychiatrist Rosa, play by Georgina Rich, who tries to understand River and his visions and encourages him to attend her group sessions where other people share similar experiences of "voices" in their daily lives.
Each episode of RIVER is wonderfully created and acts as one piece of a whole puzzle. Thankfully with the series coming to DVD and Blu-Ray, you can bingewatch the entire series in one evening/night as once you start, you'll not want to put the series down until you've finished it. It's gritty and clever with an engaging story that will have you stroking your chin as River attempts to make sense of it all to ultimately find Stevie's killer.
Extremely well written, RIVER is one emotional rollercoaster that you absolutely have to see. Every minute of this thriller is unmissable and will keep you hooked until the bittersweet finale. I'll even admit I got teary eyed towards the end, such the effect the wonderful performances and the on-spot writing has.
If crime thrillers and police dramas are your thing, then you absolutely need to see this series. British drama have truly knocked it out of the ballpark with RIVER. A mesmerising must-watch!
Rating: