Steve Jobs (2015)
Directed by: Danny Boyle
Written by: Aaron Sorkin
Starring: Jeff Daniels, Kate Winslet, Michael Fassbender, Michael Stuhlbarg, Seth Rogan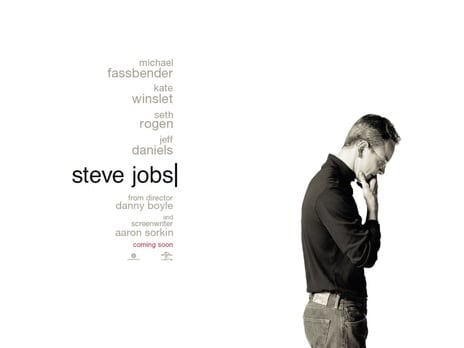 Following one of the most celebrated figures in technology history, Steve Jobs (Michael Fassbender), Steve Jobs shows behind the scenes of three significant tech announcements, the Apple Macintosh in 1984, the NeXT computer in 1988 and the iMac in 1998.
The second Steve Jobs biopic since his death, the first being the Ashton Kutcher starring Jobs, Steve Jobs hits our cinemas with the worrying news of the film being dropped from cinemas in America after poor box office sales. This is strange news considering Apple products are as popular as ever and the film is the product of great filmmaking talent. Gladly, Steve Jobs isn't the disaster that the poor box office would seem to signal.
Mounted behind the scenes of the film are two filmmaking giants in the form of Oscar winning writer Aaron Sorkin and Oscar Winning director Danny Boyle. Sorkin's scripts are a creature of their own formed of hundreds of pages of dialogue that rattle off like bullets in a machine gun, the viewer having to pay close attention to keep up. Danny Boyle's films are significantly his own, pulsed with an energy and visual style that make them unique. So, when these two high energy creatives come together there could be the potential for over doing it, the visual and dialogue energy flowing over and exhausting the viewer. Steve Jobs certainly feels more like an Aaron Sorkin film than a Danny Boyle one, Boyle having reigned himself back so as not to saturate the material. You feel his touch in several moments, such as the opening to each new Act and when Jobs talks to Hoffman about a satellite and Boyle projects images of it on a wall next to them, but he wisely doesn't over play his hand. What he does is much more subtle but no less impressive. He wrestles the hundreds of pages of dialogue into something that remains visually interesting and arresting while letting the actors and dialogue space to work. He is the invisible hand expertly behind it all.
Sorkin's script keeps everything rolling at a tremendous pace, the dialogue and performances barrelling along, but it does feel like Steve Jobs doesn't really hit a dramatic crescendo until the very end. The most dramatic events in Job's life are handled in flashbacks that occur during conversations, effectively blunting their dramatic force as they are things that have already happened. This is only a minor concern however, as the film delves into the psychology and relationships of the characters keeping things interesting and entertaining.
Michael Fassbender, easily now one of the best actors of his generation, has already played one Shakespearean character this year in Justin Kurzel's Macbeth, and here it feels like he plays another. Sorkin's script, as he did with The Social Network, feels like a modern day Shakespearean tale, including theatrical staging and a three Act structure, with Steve Jobs the king who risks and loses it all while those around him struggle to contain him and to live with him. Steve Jobs is neither a hatchet job nor an exercise in hero worship. Jobs is portrayed with his flaws and merits. Jobs undoubtedly knew what he was doing, a testament to which was his huge amassed wealth and the fact that most people now own an Apple product, you may even be reading this on one, but his attitude and behaviour to those around him was certainly less than stellar. Those worried about the film just being about computers and a man who designed them should be happy to know that, like The Social Network, Steve Jobs is far more interested in the people behind the technology. Before each product unveiling, Jobs interacts with significant people in his life, fellow Apple creator Steve Wozniak (Seth Rogan showing he can play the straight man very well), former Apple technician Andy Hertzfeld (Michael Stuhlberg) and former Apple board member John Sculley (Jeff Daniels). Each challenge Jobs and show some of his worst characteristics, his hubris, his arrogance and his paranoia. Most importantly are the women that surround him. Kate Winslet plays his assistant Joanna Hoffman, who keeps Jobs on track and gets everything working around him how he wants it, and Job's daughter Lisa Brennan, played by Makenzie Moss, Ripley Sobo and Perla Haney-Jardine as Brennan grows up. This relationship is truly the heart of the film; initially very spiteful towards his daughter, whom he believes isn't his, she eventually brings out the best of him, showing his more human side. Steve Jobs takes us behind the myth and the image of Steve Jobs the Apple visionary and shows us his human side, flaws and all.
Steve Jobs is an enjoyable and pacey drama with great performances from its cast and a rhythmic and fun script all tied together by the subtle controlled hand of Danny Boyle. A good watch even for people who aren't interested in Steve Jobs or Apple.
Rating: