Exposed (2016)
Directed by: Declan Dale
Written by: Declan Dale, Gee Malik Linton
Starring: Ana de Armas, Big Daddy Kane, Christopher McDonald, Keanu Reeves, Mira Sorvino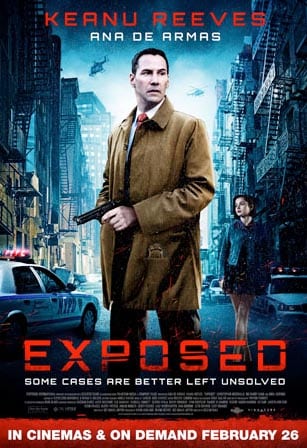 EXPOSED (2016)
Directed by Declan Dale
The same night that young woman Isabel witnesses a feat of superhuman ability in the subway station, a police officer is murdered. Investigating his killing, his partner and best friend Detective Galban discovers some dirty truths about his deceased friend, truths that link him to a Dominican family of which Isobel belongs. Meanwhile, Isobel herself begins to see more strange spectres in her daily life whilst she tries her very best to protect a little girl she believes is being abused and neglected by her family.
I'll be blunt. Crime thriller Exposed makes very little sense. It's plain to see that this film has been butchered to within an inch of its life and it suffers greatly for it. Whole sections have been erased and the scenes jump aimlessly from one to another with certain scenes appearing to just be there for the sake of it with no point or follow-up, just merely throwaway. The original version of the film, titled Daughter of God, was meant to be a drama and by all accounts a great film that was praised upon its initial screening so I have no idea why the studio allegedly decided to hack it to bits and turn it into a cop thriller instead. Maybe it was to try and push the Keanu Reeves angle so they could sell the film more but his role was a minor one and even with this edited version, it still is a minor one but stretched out as much as possible to make it seem like his character Detective Galban is a main character. I'm sure Reeves and the rest of the cast who got involved because of the original screenplay wouldn't be too pleased with this haphazard result and it certainly doesn't surprise me that writer/director Gee Malik Linton has had his own name removed from the film.
Despite Exposed's major flaws mentioned above, Cuban actress Ana de Armas, last seen in Knock Knock, excels in her role as a young woman who teaches primary school children. From what I can gather from this choppy edit, her character Isabel is a Sunday School type teacher, sharing her deeply religious Catholic views with the children she teaches. Her husband is is serving in Iraq when she witnesses a man levitating on the subway tracks on her way home from a nightclub. Shocked by what she's witnessed, she shares the news with her in-laws, a Dominican family who too take their religion seriously. Isabel's surreal and supernatural visions increase as she spots them around New York city. Believing them to be guardian angels, she strives to be the best she can be so when she sees young pupil Elisa in distress, she takes her under her wing.
Keanu Reeves plays his minor character well though like the rest of the cast, his character brings very little to the table leaving the viewer unable to care one way or another about his life. When not battling through guilt of abandoning his son after the death of his wife, Galban is investigating the murder of his partner though it seems his partner wasn't exactly an angel himself and with his own criminal activity there's many potentially culprits out there who could have wanted him dead.
Exposed has no context or meaning with the entire plot revealed last minute as the viewer struggles to make sense of all the jumbled scenes stuffed together in the earlier scenes. It's shockingly incoherent in its current format which is a shame because you can see the potential it had from the performances and the style displayed. It's just that this film, as it stands, makes no sense at all and isn't worth watching because of it. I pray that one day we'll get to see Linton's version Daughter of God edited by Hervé de Luze, the way it should have been.
Rating:
Save