Daredevil Season 2 (2016)


Starring: Charlie Cox, Deborah Ann Woll, Eldon Henson, Jon Bernthal, Rosario Dawson, Vincent D'Onofrio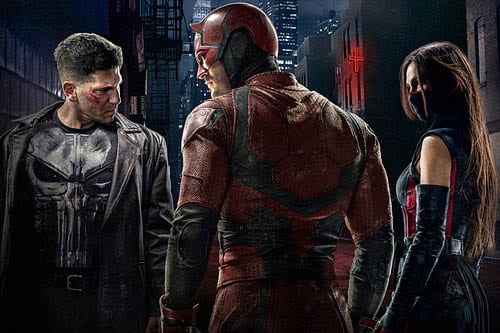 In its first season, Marvel's first foray in to Netflix astounded many with its grounded, brutal and generally fantastic Daredevil TV show. Any doubts about the quality of another Daredevil adaptation were firmly quashed after the first episode and season 2 starts in pretty much the same fashion. With Fisk behind bars, Hell's Kitchen is under the watchful eye of Daredevil, always on the look-out (for want of a better word) for criminals, which our titular hero dispatches with glee. And Nelson & Murdoch, despite struggling to keep afloat,  have never been busier. A happy medium seems to have been found, despite Foggy still having reservations about his visually impaired best friend stalking the city's seedy underbelly at night. But this is a superhero story. Things can't stay happy for long, and following a gangland execution, there seems to be a new threat in town. Enter The Punisher, played with exhausting ferocity by Jon Bernthal, and quite possibly steals the show, too. It's not long before worlds collide. One of The Punisher's victims survives and seeks council with Nelson and Murdoch, meaning Matt is getting to the bottom of things as both lawyer and vigilante.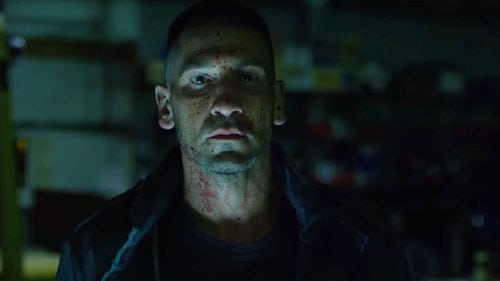 Daredevil starts very strongly indeed, with Charlie Cox impressing yet again as the Devil of Hell's Kitchen, along with the very impressive supporting cast. By the end of the third episode you'll feel out of breath, and episode four will knock the rest of the stuffing out of you. There's plenty of dust ups throughout, and every one involving Daredevil is wonderfully choreographed martial arts action, which is particularly impressive when he takes on a motorcycle gang early on in the series, in a set piece reminiscent of season one's one-take corridor scene. The Punisher on the other hand, compared to Daredevil's ballet of violence, is primal, nasty and dirty. If he hasn't got a fire arm to hand he will incapacitate by any means necessary. His methods make Daredevil seem somewhat family friendly in contrast, given how brutally he slays his victims, which in many cases is extremely graphic and there is no flair or finesse, just brute force and anger. This however is just as satisfying, if not more than the impressive free flowing fights that Daredevil gets in to.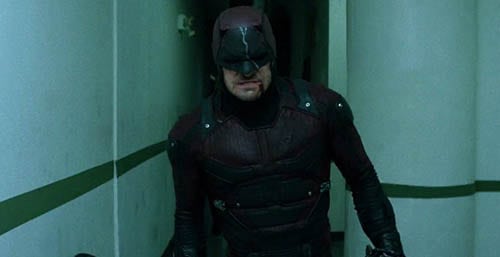 As episodes progress, things become more strained between Matt, Karen and Foggy, as the latter feels the relationship between the three is becoming compromised by Daredevil, which unfortunately makes for a more interesting storyline at this point than seeing the hero doing what he does best. Karen yet again manages to get herself in the thick of it, as she endeavors to uncover the truth about Frank Castle, and putting herself in harms way once again. Things don't end smoothly either, with questions being left over relationships on all sides.  When Elektra is introduced, Matt doesn't want anything to do with her, but she manages to convince him to assist her, and that's when things start affecting his personal life and it stops being as enjoyable. At first things take an interesting turn, but it's not long before Elektra's story line starts to drag, as it seems they repeatedly keep getting in to the same situation. That isn't to say the character isn't of interest, as she's enigmatic, and can kick arse with the rest of them. Luckily we've still got the Punisher/Frank Castle storyline to keep us invested, as it's as captivating as it is ultraviolent.
It may not have the unsettling threat of Wilson Fisk hanging over it this time (although he does make a couple of appearances midway through as we're treated to some jail time), but the Punisher makes up for that with an unflinchingly brutal character that will have you questioning yourself whether you should be rooting for him or not. And while it does dip in quality towards the end, it's another superb Marvel series that makes the movies look like they're for pre-school kids.