What? (1972)
Directed by: Roman Polanski
Written by: Gérard Brach, Roman Polanski
Starring: Hugh Griffith, Marcello Mastroianni, Roman Polanski, Sydne Rome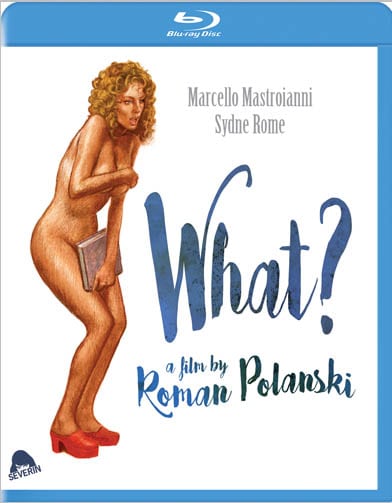 WHAT? (1972)
Directed by Roman Polanski
Young American woman Nancy finds herself travelling through Italy whilst backpacking around the world. When a ride she hitches turns sour, with the occupants attempting to rape her, she manages to flee and find solace at a villa nearby housing the strangest guests she will ever likely meet. When her clothes are stolen and she is forced to wander around the villa topless, Nancy soon discovers the hedonistic nature of her temporary home and the sordid sexual fantasies of those who live there.
Whilst I'm a fan of Roman Polanski's work, I know there's some films of his that I just don't gel with. For instance, I don't like Chinatown. Unfortunately, the surreal sex comedy WHAT? sits alongside it as a movie I just don't get. However, where Chinatown had a narrative, WHAT? is simply scenario after scenario of lead character Nancy meeting the quirky inhabitants of the Mediterranean villa, all of whom are keen to get into her knickers or at least get a sneaky peek of her breasts which plenty of them do. The guest who makes the most impact on Nancy is a distinguished, suave gentleman named Alex who basks in his bathrobe in the Italian sun and has an unhealthy fixation with noise – he simply can't stand silence. Though he is accused of being a pimp, having STD's and being gay, the former of which was once true, Nancy decides to get involved with Alex despite the warnings from fellow residents Jimmy and Mosquito (a harpoon-obsessed Polanski). This relationship which Nancy strikes up takes her into directions she never thought she'd find herself in as Alex involves her in his special taste for roleplay, something which he takes deadly seriously. These sexcapades with Alex and various other characters floating around the villa make the viewer question what exactly is going on – is it a sanctuary for the sex-obsessed or something else? When the day's events appear to repeat themselves over and over in slightly different ways, Nancy too begins to wonder what's really happening but the big question for the viewer is why the hell is she staying?
If you're looking for a plot, WHAT? doesn't really have one. It truly is one of the strangest films I've had to endure and I can't say I enjoyed it despite the fine performances from Sydne Rome as Nancy, Marcello Mastroianni as Alex and the rest of the cast. It's exploration of sex and its loose storyline becomes boring very quickly as the film appears to head in no direction whatsoever. Even the scene prior to the credits announces itself as merely a way to end the film – something which Nancy herself acknowledges in a self-aware moment of the film. Not even the tropical location, of which we see in passing glimpses when the characters venture outside of the villa, isn't enough to keep this reviewer interested.
Severin Films have brought WHAT? to Blu-Ray with a fine high definition transfer with clear audio and a collection of special features including interviews with Sydne Rome, composer Claudio Gizzi and cinematographer Marcello Gatti alongside a trailer for the movie. I believe that at almost two hours long, the film has finally been restored to its original running time from a vault print reportedly stolen from the wine cellar of producer Carlo Ponti, according to Severin Films.
So is WHAT? worth a watch? Maybe if you're a Polanski fan like I but if you're into his darker work such as his horrors or thrillers then the adventures of a naive American woman who's defiled by perverts and pimps might just be a bit too "out-there" to enjoy.
Rating: