Lights Out (2016)
Directed by: David F. Sandberg
Written by: David F. Sandberg, Eric Heisserer
Starring: Alexander DiPersia, Alicia Vela-Bailey, Billy Burke, Gabriel Bateman, Maria Bello, Teresa Palmer

Lights out (2016)
Directed by David F. Sandberg
Now, I've never looked into it, so could be wrong. But I'd bet fear of the dark is among the most common phobias. There's something inherently scary about the loss of sensory information and the worry that anyone (or anything) could be in there with you. Yes, from the deep crevices of the mind, all range of twisted creatures or killers can be conjured up. When the light was out in his rather terrifying 2013 original (less than 3 minutes long) Director David F. Sandberg created a creepy, pale, figure. Now in his feature-length debut and remake, produced by James Wan, the monster's much the same. But less scary.
It gets a name and backing story though! This time, the spectre is called Diana (Vela-Bailey). She's an evil spirit with an extreme sensitivity to light and a workmanlike backing story. Suffice to say she wasn't hugely popular in life, having only one companion in the form of troubled teen Sophie (Bello). Now back from the dead, decades later, she's come to cling to her, like an unsubtle metaphor for depression, and ruin any other relationships she has. This includes those with her husband Paul (Burke), her young son Martin (Bateman) and estranged daughter Rebecca (Palmer), who has her own place but no visible source of income. It all starts with Martin being repeatedly kept awake by the sounds of his unhinged mother and her dead old buddy chatting into the early hours. Nodding off in class the next day, from exhaustion, he gets picked up by his sister who he tells about Diana's visit. Unfortunately for Rebecca, this reminds her of her own similar experiences years ago. However, fortunately for the audience, this means there's none of the usual second act fat about whether or not it's real. Together, with her boyfriend Bret (DiPersia), the siblings decide to intervene before Diana hurts somebody. Cue many talks about the value of family between light flickers and jump scares.
To be fair, Lights Out gets a lot right. Some of the set-pieces are very effective, including an intro scene that watches like a big-budget version of the short that's been relocated to a textile factory. Sandberg is adept at building tension, then escalating it, from the start despite how mixed his ghost's rules get. This allows for some real edge of the seat scenes. There's a clever use of practical effects, shadows and sources of light throughout when Diana pops into scenes. In particular, a prolonged chase sequence saw the audience laugh, wince then spontaneously erupt into applause. Sound design is suitably eerie, with scary scratches and creepy creaks and some rousing strings that are never too invasive. The fear is also encouraged by a cast that performs way above the usual standard, all over-delivering on weak material. In particular, Palmer does a stellar job of injecting charisma and personality into her role. Although alas, this doesn't stop Rebecca being dull.
Because that's what the script is: dull. Written by Thing prequel, and Elm Street remake, scribe Eric Heisserer, there's a real feeling of "that'll do" about every line. The family dynamics almost work, since the actors have very natural chemistry. It's just hard to care about them, given that their emotional arcs are such duds. Rebecca's internal story sees her having to grow up and accept responsibility etc. But her rebellion is thinly conveyed through a combo of non-commitment to her sort-of partner and a few metal posters on the wall. She's a boring protagonist in a film with little at stake. Nonetheless, she's many times more engaging than Sophie whose mental illness (as Diana is very obviously meant to stand in for) sees her consistently reduced to a loopy burden for all those around her. Of course, it's good to see a film where it's a mother, rather than a kid, being haunted. Though it'd be even better to be invested in what happens to her. Regardless of their genre, the films that work best do so because of their drama and characterisation. Here we have outlines and a highly insensitive allegory that only gets worse the longer it goes, leading up to what I'd call a reckless finale.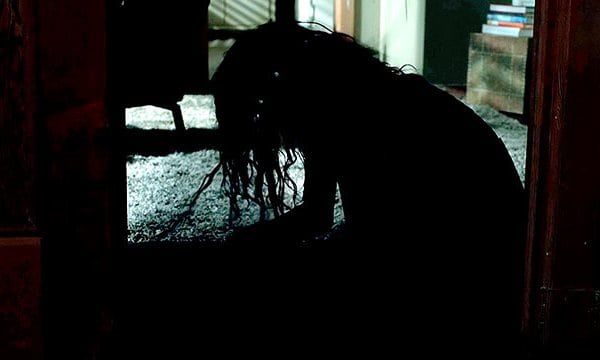 To be fair, this is what I'd call ghost train horror, where it's all about the immediate thrills, instead of a piece of sustained tension. But this doesn't mean it should skimp on the foundations. In a saturated market of supernatural horrors, Lights Out is neither in the top half nor the bottom half – but square in the middle. This means that in terms of content, style and quality it's halfway between Darkness Falls and The Babadook. I do fully believe that, with better collaborators, Sandberg may be one to watch. Still, until then we'll be kept in the dark.
Rating: