Jean-Claude Van Johnson (2016)
Directed by: Peter Atencio
Written by: Dave Callaham
Starring: Jean-Claude Van Damme, Kat Foster, Moises Arias, Phylicia Rashad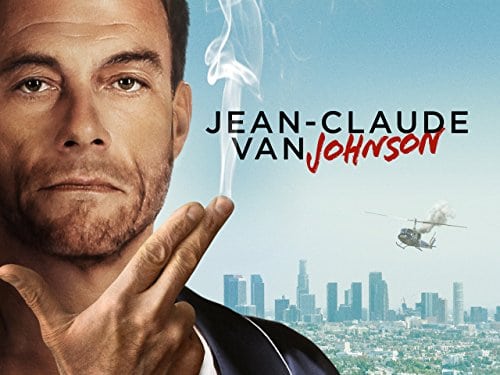 JEAN-CLAUDE VAN JOHNSON
Pilot Episode (2016)

Retired action star Jean-Claude Van Damme decides to return to the limelight to resume his undercover black ops career as codename Johnson after years off the job.
Amazon Prime Video are known for airing pilots on their website in order to gauge whether or not a full series should be produced based on feedback via reviews both on and off the website. One of the latest pilots to hit the platform is Jean-Claude Van Johnson where 80's/90's martial arts action star Jean-Claude Van Damme plays a fictious version of himself where his acting career has been a cover for his real occupation: an undercover, black ops, private contractor.
Strolling around his lavish home in his pajamas, JC has pretty much given up on life, resorting to eating microwavable Pop-Tarts rather than cooking a decent meal and riding a Segway to retrieve the morning newspaper from the bottom of his drive. He finally snaps out of his laziness when he happens to bump into old flame Vanessa. Determined to win her back,  JC decides to return to the career they once shared together. However, it won't be that easy as age has caught up with JC and in order to maintain cover, he'll need to get back into fighting fit shape to convince once again as movie star Jean Claude Van Damme!
Very few programmes make me laugh nowadays and originality seems to gone out the window for remakes or spinoffs of classic movies, but here we have a programme that feels fresh, exciting and all-round well put together whilst tying in retro action themes that have been long lost to the screen. We always say the best stuff was made decades ago and this decision to blend old with new but not in a crappy remake format shows it has legs to please both action film fans of the older generation as well as the new.
Having sat through the pilot twice, I challenge anyone not to grin throughout the 30 minutes episode of Jean-Claude Van Johnson. You'll find it impossible. Its straight-faced, dry humour will have you laughing out loud and the beautiful 80's martial arts choreography, that Jean-Claude so skillfully performs, makes its much needed return to our screens. The episode doesn't take itself too seriously and is full of real-life references to JCVD's career with his home littered with film posters and promotional shots as well as framed photos on the sideboard of his precious pooches (if you've seen his reality programme, you'll know he loves his dogs!) The film is self-aware to current trends too with it's reference to hipster experiences such as pop-up ramen restaurants, smoking e-cigs and my pet hate – the modern action film's penchant for combat scenes to contain a bazillion cuts without actually showing the viewer anything. All of this ties together thanks to the tight, flawless writing of Dave Callaham and the choice of lead in Van Damme, who's no stranger at playing and poking fun at himself in a movie.
In the pilot, we meet JC's love interest Vanessa (Kat Foster) who's recon work is covered by her job as JC's stylist whilst 'make-up designer' Luis (Moises Arias) supplies all the arms that JC will need on his mission. The trio look like they could get into all sorts of danger thanks to JC which will make for some brilliant episodes should a series could to fruition. We all know JC can handle himself, even if he is a little bit rusty as Johnson, with his effortless, emphasised style prolonged for maximum dramatic effect.
Everything that is good about film is present in Jean-Claude Van Johnson. It has dry wit, tight writing, brilliant performances, proper fight choreography that genre fans love and Jean-Claude Van Damme. What more could you possibly want?!
Perfectly blending the 80's with the Noughties (Tensies  – what are we now??), this, albeit unknowingly, is what I've been waiting for all my life 'cos Lord knows I need some slow-mo JCVD splits action to start off my day.
Rating:
You can watch the Jean-Claude Van Johnson pilot for free on Amazon. So what are you waiting for? Do it now!