Adonis & Aphrodite, Cannibals & Carpet Fitters, Cruel Summer, Dissociative, Hand It Back, Mindless, Rats, Silently Within Your Shadow, The Stomach





London's a city of 8 million – bound to be a few people that like horror. So goes the logic of the London Horror Society: a platform fans and filmmakers alike. Though still in its infancy, this fast growing group does drinking, screenings and discussions. Tonight, in the upper floor of a pub in Highbury and Islington, they're holding a night of terror as part of the Unrestricted View Horror Festival. Showcasing a number of short movies, from the local scene, plus a feature I was gutted to miss at Fright Fest, it promises to be a memorable evening. And hopefully the first of many. On the bill are:
Dissociative by Damon Rickard
A man wakes up with a bad combo of a dead wife and no memory for what happened. Across the next five minutes we watch as he tries to figure out her death. Though its plot is fairly predictable, offering a puzzle many of the audience will piece together immediately, the reveal is well handled. Aesthetically it's also impressive – being impressively atmospheric and very disorienting. A decent start.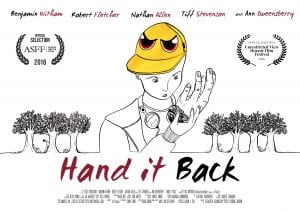 Hand It Back by Robbie Gibbon
When trying to impress the cool kids, and join their gang, young Ryan finds himself unknowingly nicking a 300-year old severed hand with magic properties. Unable to lose it, he undergoes a coming of age as he finds strength of character he never knew he had. If all this sounds a little syrupy I can assure you it's not. The humour is often laugh out loud, with all characters having their time to shine. Furthermore, the visuals are spot on and it is all rather sweet without being sentimental. Maybe the best short of the evening: it was certainly the most entertaining.
Mindless by Katie Bonham
This one I'd seen before, though it's as harrowing second time round. The story focuses on a middle aged man, who's gone senile (Nicholas Vince who you may not as the chattering cenobote), and his care worker who visits daily only to find his place has been torn apart. But who did it? Telling a satisfying arc in less than 10 minutes can be tricky, but Bonham does a wonderful job of conveying a self-contained plot that goes out on a satisfying twist. The actors also handle their roles excellently, considering how minimalist the script is, and give the ending a creepy kick.
Cannibals & Carpet Fitters by Richard Lee O'Donnell
The quirky comedy-horror is about Dean and Colin: two carpet fitters, called out to a job in the middle of nowhere for a seemingly sweet old lady. However, the house isn't all it first seems and they find themselves in a humoruous funny fight for survival. The movie does a decent job of celebrating and subverting tropes and much of the (often puerile) dialogue will have people sniggering like teenagers. All round great fun.
The Stomach by Dan Dixon/Ben Steiner
Coming in at 15 minutes, this movie packs in a tonne of different styles and influences into a single nasty concept about family loyalty. Frank is a spirit medium with his own unique, and rather grotesque, means of channelling the dead via his deformed stomach. With his brother he sells this skills. Only, given how dangerous it is then it's no mystery why he wants to leave. But it's not as easy as handing in a letter – particularly not when he's inadvertently pulled into the crminla underworld. Visually brilliant, with stellar effects, and a powerful final punch. Here's a short I'd love to see stretched out to a feature.
Silently Within Your Shadow by Scott Lyus
Been a while since I saw a scary puppet movie. As such, this one about ventriloquism devotee Lucette, and her obsession with the supposedly lifeless Hugo, should have been right up my street. The concept isn't quite done justice though, with Lucette's boyfriend's reactions to the puppet not being escalated effectively enough to generate much tension. The sound mix is also off, though I expect this is maybe more an issue with that budget than anything else. However, despite these niggles it's otherwise well put together, with a good use of close ups, some unnerving performances and a backing story that reveals just enough to keep you wondering.
Adonis & Aphrodite by David Chaudoir
A woman saying a monologue in a greenhouse probably doesn't sound like the things horror's made of. Yet when what she says is this unnerving, it may change your mind. That's not to say that it's all doom and gloom – there's some excellent social satire, as she discusses her unconventional neighbours. Much of it is very contemporary, and really fairly funny (even if the twist seems needless). When it gets going, then for those that get in on it I expect the mental images they conjure would be worse than anything that could be shown, given the budget. Though I expect others will just want to see the bloody thing instead.
Rats by Mark Logan
Could you think of a more romantic place to spend the night than a castle? Middle aged academic Bill certainly hopes his young bit on the side can't, as he invites her for an evening of passion. Alas, film studies isn't his area – otherwise he'd know it's a bad idea. Needless to say they're not as alone as he'd like them to be. Strong black humour and some excellent practical effects make for a very enjoyable short that's well acted, well shot, well scored and has sound effects that'll go under your skin. The only problem is the pay-off maybe seems too by the numbers. Though, that being said, I certainly smiled a lot. Establishes Logan as a great storyteller.
Cruel Summer by Phillip Escott/Craig Newman
The main event: an impressive debut feature about bullying that's loosely inspired by true events. Danny is a kid, with autism, who likes the serenity of camping: sitting, fishing and sleeping away from everyone else. But this meagre plan is soon disrupted when angry neerdowell Nick discovers is lead to believe he was involved with his ex-girlfriend from his besotted pal Julia (quite refreshingly, we're never told one way or the other if this is true). On this bombshell they go to track him down, first lying to enlist the new, keen to impress, kid Calvin. What follows is a sometimes difficult to watch drama that leads to a truly disturbing finale. It's not especially bloody, but the amount of torment makes it more than live up to its title. Something that's particularly interesting is the amount of time the filmmakers spend with the villains, making it very much their story instead of Danny's. Unfortunately some of their scenes feel gratuitous: in particular a montage of them hanging about a playpark could have been cut by half. Some of the characterisation is also inconsistent, with Julia leaping between goading Nick on and telling him he's gone too far within the same 20 seconds. Still, all the performances are dead on, even in the rare instances the script isn't. A very tense, terrifying and emotionally involving film that'll stick with you.
And with that it's a short trip home. Albeit one that felt darker than usual.
The London Horror Society website can be found here. They are also on Meetup, Facebook and Twitter