The Night Of (2016)

Written by: Richard Price, Steven Zaillian
Starring: Amara Karan, Bill Camp, Jeannie Berlin, John Turturro, Michael Kenneth Williams, Peyman Moaadi, Poorna Jagannathan, Riz Ahmed, Sofia Black-D'Elia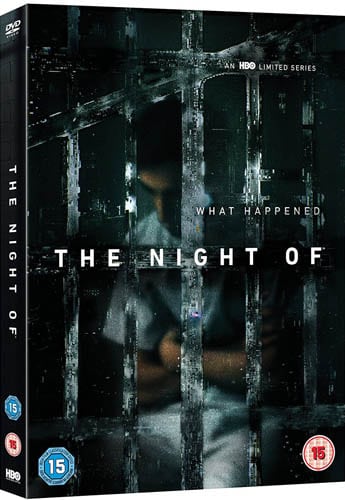 THE NIGHT OF (2016)
TV Mini-Series Review
Available on DVD and Blu-Ray from Amazon
23 year old Nasir Khan is invited to a party in Queens and so borrows his father's taxi to get there after being let down by a friend. After getting lost on his way to the party, he accidentally picks up a female passenger, Andrea, who thought his cab was on duty. Unable to leave the pretty young woman on the streets, Naz takes her to her chosen destination. After chatting and getting to know one another, the two head back to her place where the young woman convinces muslim Nasir to drink and take drugs with her and play the ol' 'knife-hand' game. Seduced by her beauty and attitude, a feeling that's clearly mutual, the two sleep together.
Waking up at the kitchen table in the early hours of the morning, Naz goes to collect his things from her bedroom when he discovers her bloodied corpse. Panicking, he flees the scene but not before picking up the bloodied knife they were messing around with prior to sleeping together. After making a wrong turn down a street, Naz is pulled over by the police who then continue on to reports of a break-in at Andrea's home where the police make the grisly discovery. Taken into police custody for the driving offence, it isn't long before Naz becomes the prime suspect after an officer discovers the bloody knife during a pat down. Facing charges of homicide with evidence of his presence all over Andrea's home and traces of her in his cab, on his clothing and body, proving his innocence looks bleak but budget criminal lawyer John Stone decides to take on the case to bring his client to justice.
Eight part HBO television mini-series THE NIGHT OF, a remake of the British TV series Criminal Justice, is a brilliantly written, gritty criminal drama which takes a long, hard look at the criminal justice system. Setting the scene from the beginning, we get to know this academically clever young man and his yearning to be part of the in-crowd. The invite to a party with lots of girls in attendance sounds just too good to miss. However, his night doesn't go as planned and his sweet night of passion ends up as his worst night of his life with the finger immediately pointed at him. Watching these events unfold, I often found myself asking the question: "what would I do if I was in Nasir's shoes?".
Innocent til proven guilty appears to fly out the window with the mountain of evidence stacked up against Naz and we follow his journey from a law-abiding citizen into the dangerous territory of Rikers Island prison where he quickly learns what happens to little wide-eyed lambs like him. Outside of the jail, we discover the effect his incarceration has on his parents and brother as well as his community and what the murder accusations mean to them. The series does its best to show the far-reaching effects of the crime, cleverly adding layered ripples to depict how a crime like this can change a community, especially one from a particular religion that has received hostilities post-9/11.
Proving Nasir's guilt is pretty simple to retiring Detective Box who thinks he has the case all sewn up ahead of the trial. The only thing he doesn't have is a confession but everything points to Nasir. Bill Camp stars as the wisened detective who has 300 crime scene cases under his belt. Despite his bulldog attitude, he always gives the impression that he may not be 100% convinced that Nasir murdered Andrea which leads to a flicker of hope whilst watching the series. However, as the plot develops, Naz gives the viewer reason to doubt whether he's telling the truth and whether what we saw at the beginning of the series was the entire story. A fantastic performance by Four Lions' star Riz Ahmed beautifully depicts the downward spiral of this bright young lad into a hardened jailbird who becomes the pawn for the prison's kingpin Freddy Knight (Michael Kenneth Williams). You can't blame the lad as it's a dog-eat-dog world but seeing his innocence stripped away, changing his life forever, all for being at the wrong place at the wrong time, makes you feel sorry for him though his life under Freddy's wing seems a better one than life in prison without that safety blanket protecting him.
Stealing the show and attempting to save the skin of Naz is John Turturro as Saul Goodman-like attorney John Stone. More used to accepting plea bargains on the behalf of street criminals instead of defending a murderer on trial, John is seen as out of his depth but his determination and attitude towards the case brings the viewer right on side with him. Shuffling around town in his trenchcoat and sandals, the eczema-suffering lawyer displays a keen eye for detail and isn't afraid of investigating it. His father-like attitude to Naz also warms the young lad to him but ultimately, John is looking for that big payday and this case could be his lucky break! Turturro's performance is a mesmerising one as we follow his ongoing struggles with his violent eczema outbreak which prevents him from wearing shoes and causes him to satisfy his itchiness by poking his feet with chopsticks. As much time as we spend with Naz in jail, we're with John as he bounces from doctor to doctor in the hope of finding a cure whilst battling the remedies' low sex drive side-effects. We even become part of the Dermatitis Anonymous group as John and his fellow sufferers discuss how their skin problems are ruining their life. Life isn't all bad for divorced dad-of-one John though. He makes a new friend in the form of the murder victim's ginger and white cat, a lovable pet that shows great affection towards John who's unable to properly care for the puss due to allergies. Their will they/won't they relationship is as gripping to watch as the courtcase itself and provides quite a few of the many humorous moments that litter the series.
When the action gets down to it and we see Naz face trial, it's a tense affair in and out of the courtroom as the State's prosecutor Helen Weiss puts forward her evidence of Naz's involvement whilst Chandra Kapoor (Amara Karan), aided by John Stone, does her best to convince the jury of his innocence. As a viewer, you never really know which way it's going to swing and whether or not Naz is actually innocent. Investigating other potential suspects puts the viewer into the shoes of the detective and wonder, "if not Naz, then who?". The back and forth between prosecutor and defence is so strong that it's never really clear who has the upper hand. I just hope I'm never on jury duty for a case like this!
With a tight script from Schindler's List Steven Zaillian and The Wire's Richard Price and marvellous performances from all involved, THE NIGHT OF will have you on the edge of your seat from the very first moment to the final scene. It's such a layered mini series that delves much deeper than your average crime drama that its lasting impression will leave you questioning criminal cases in real life. As they say, there's sometimes more than meets the eye.
Rating:
Save
Save
Save