Killer Piñata (2015)
Directed by: Stephen Tramontana
Written by: Megan Macmanus, Nick Weeks, Stephen Tramontana
Starring: Billy Chengary, Daniel Hawkes, Davinia Palmer, Eliza-Jane Morris, Elvis Garcia, Lindsay Ashcroft, Nate Bryan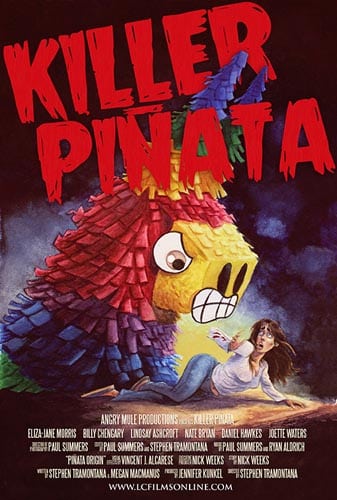 Killer Piñata (2015)
Directed by Stephen Tramontana
After being bought from a candy store, a killer piñata decides to murder its human owners after the family decide to beat his friends to death during a birthday party.
Those cute paper mache creatures we hang up from trees and belt with a stick in order to drop sweets have a lot to be annoyed about so it seems fitting that we have a revenge tale where one such pinata decides to seek justice upon the human race who ruthlessly torture them. The only person that stands in his way is the owner of a candy store, a lady who's got a penchant for purple hats and a hook for a hand. Knowing his deep, dark secrets, she attempts to stop his slaughter by taking him off sale but when her dopey nephew sells him whilst she's away, she must do everything she can to find him.
The movie centres around a family who's young son is celebrating his birthday and every good birthday party needs a piñata, right? After the celebration, the family leave for a short break whilst daughter Lindsey (Eliza-Jane Morris) stays at home, planning to invite her friends round for a party. With the parents away, she invites best friend, man-hungry Rosetta (Lindsey Ashcroft) round along with her own estranged boyfriend Scott (Billy Chengary) and his friend, the athletic Chad (Nate Bryan) who too is looking for some action. Cramping their style is Rosetta's cousin Marty (Daniel Hawkes), an awkward individual who invites himself to the party after having lent Rosetta a few hundred dollars. Planning to get wasted and get it on, the group look forward to a fun time but the brightly-coloured, confectionary-filled horse in the garage has other ideas.
Despite his killer instincts and taste for blood, the villainous pinata is naturally the cutest character of the film. Like Horstachio from Viva Piñata, the multi-coloured horsey piñata looks harmless enough with his rainbow ribbony tail but events at the beginning of the movie show what he is capable of…
Many horror villains are deadpan and masked, creating unemotional entities but our little antagonist is much more than your ordinary psycho. Whilst filming a piñata who's face is unable to move can create some issues, in terms of conveying emotion, the camera is effectively used in this movie to produce shots that effectively tell the story and heartbreak of this poor creature. There's a particular scene where a little boy chooses between three piñatas for his birthday party and our killer piñata is left on the table in exchange for a pink one. Close-ups of the pink piñata's face full of fear and despair is quite emotional to watch, particularly with the pink piñata's POV shot as it's being led away from our antagonist. The slow-motion whacking of the pink piñata that follows is soul destroying and you can feel the sadness and sorrow that fills the piñata world at what's happening to one of their own. It's of little shock really that our rainbow piñata turns homicidal and instead of being a character we wish to see killed off, he's a villain we can both love and fear at the same time. The effects department deserve to be applauded for bringing the little one to life with head and hoof movement as well as an ability to drag dead bodies around and launch himself at his enemies without the use of CGI. A lack of motion is one of the qualms I had with similar themed horror movie Caroushell but Killer Piñata has hit the nail on the head and delivered everything I could have wanted about a piñata with bloodlust. The filmmakers also give the piñata a backstory in a wonderfully, inspired animated format to give the viewer a bit of history on why the piñata has such contempt for human life.
A likeable cast with some witty dialogue, visual humour (makeshift weapons magically turn into actual functional weapons) and a sprinkle of tongue-in-cheek comedy helps to create this into a well-rounded, budget, zany 'creature' horror. It's not a particularly gory affair (bit of nibblage here and there) but an inventive, imaginative look at what would happen should a party piece finally snap and go homicidal on your ass.
Just like the real thing, Killer Piñata is a flamboyant sweet treat that you should definitely indulge in.
Rating: