Bad Ben (2016)
Directed by: Nigel Bach
Written by: Nigel Bach
Starring: Nigel Bach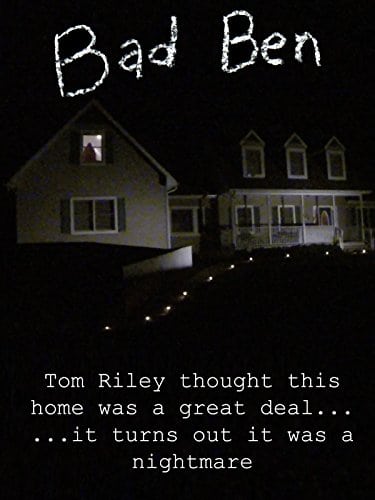 BAD BEN (2016)
Written and Directed by Nigel Bach
Available on Amazon Prime Instant Video
After bagging an impressive property with nine acres of land at a knockdown price at a Sheriff's sale, single man Tom Riley plans to re-sell it on for a profit. However, when strange things begin to happen inside the house, such as furniture re-arranging itself, he begins to question whether or not he is actually alone in the house. What exactly happened to the people who owned the property before him and could the grave marked 'Ben' in the back garden have any link to the creepy events Tom's experiencing?
Found footage spooky drama BAD BEN is a one-man horror show utilising the genre's penchant for handheld cameras and security footage to tell the story of a haunting that raises more questions than it has answers.
Written and directed by Nigel Bach, who also stars as Tom, the film focuses on the aspiring property developer as he documents his purchase of the Steelmanville Road home with a view to spruce it up and sell it on. Tom seems a likable chap, if a little bit of a lonely one as he never interacts with anyone else during the entire length of the movie. His first weekend at the house proves an eventful one as, after chucking out the previous occupiers' Christian paraphernalia (crosses, bibles, etc) and destroying grave markings out in the back garden, his property is broken into. Not once, but several times. It's fortunate that the house is already rigged with security cameras both inside and outside the property, so Tom rings up the security firm and asks them to reconnect the camera service which uploads and stores the footage in the cloud for downloading and viewing at any time. The film we're watching is supposed to be result of said footage.
What starts off as some furniture repeatedly moving around by itself soon develops into a seance as it doesn't take Tom long to work out that the home's being haunted, suspecting that it might be something to do with the grave he found out back, the one he was hoping belonged to a family pet. Undeterred by the supernatural presence, Tom goes on with his daily life, recording events on his mobile when the security cameras don't offer coverage. As a viewer, this felt a little strange to me as there didn't seem a reason as to why Tom would be filming himself all the time (it's not like he's a Youtuber needing footage for his channel) and to add to that, he's often seen talking out loud to himself to benefit of the viewer. Whilst sometimes it works, such as when Tom is on the phone or talking to the spirit in his home, there's other times where he's having a full-blown discussion out loud that isn't really warranted or realistic considering there's nobody else in the property besides him. This lessens the found footage experience a bit for me though it is clear that Bach has some good ideas up his sleeve to try and convey the story to the viewer with only one character.
Outside of doors opening and closing by themselves and shadows flitting across the room, there's very little going on in BAD BEN to keep the viewer on the edge of their seat. The story itself is pretty straightforward and hasn't enough substance to flesh out its running time of 86 mins. It's by no means a rubbish film though. The ideas are there but I feel as though the film would have worked better as a shorter movie, condensing the 'action' and making it much snappier and scarier instead of the dragging, repetitive feeling it omits in its feature length guise.
For horror fans, there's nothing here you won't have already seen before. Objects, namely furniture and doors, moving around and the occasional human-spirit interaction is about as creepy as it gets though a violent scene in the latter half of the movie certainly impresses and reminded me of The Entity. The film will probably appeal more to Paranormal Activity fans than those of bloody horror though the plot of those films are more developed than what we have here.
Nigel Bach has shown he has talent in filmmaking with BAD BEN, in particular with his solid performing role, but a stronger plot and execution is needed to keep viewers engaged throughout the running time. Hopefully with prequel Steelmanville Road he has done just that.
Rating:
Save