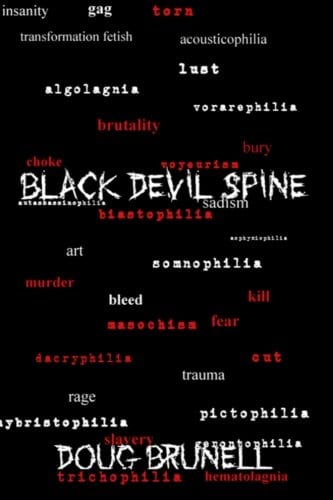 BLACK DEVIL SPINE
by Doug Brunell
Available in paperback and ebook format from Amazon
Pressured by his publisher to deliver another literary hit after his previous book hit the best-sellers list before being adapted into a major motion picture, true-crime author Dan Gere is looking for inspiration for his next novel. After visiting an art gallery with friend Jessica, he discovers the warped art of the enigmatic Martin Springer – a Jekyll and Hyde artist who in one breathe paints beautiful fine art and in another, photographs intense scenes of S&M and bondage. The reclusive artist, known to refuse interviews and even appear in public, seems to be the perfect subject matter for Dan's book and after much persuasion, Dan is granted access to write the definitive novel on Martin Springer.
Initially excited about his new book, it doesn't take long for Dan to become concerned about his subject matter as he gets a front-row seat into the life of the man and the mindset behind his art. But just how far will Dan go in order to complete his much-anticipated novel?
After the terrifying horror of Nothing Men and the insightful dissection of sexploitation flick The Abductors, Doug Brunell is back with his most traumatic work yet. If you've read my review of Nothing Men, then you'll know how much of an impact it had on me, leaving a lasting impression long after the turn of the final page. With his latest book, BLACK DEVIL SPINE, Brunell warned me that this wasn't for the feint of heart. Having read some other daring and torturous material in the past, I thought I could handle what would be thrown at me and there was no chance I was going to turn down a look at new material by a man who's quickly become one of my favourite horror authors.
Brunell opens his novel with a hook that immediately sucked me in as I learnt about the character of author Dan Gere, his hit career and his social life. Everything looks rather rosy for Gere with a few engaging social interactions, from sexual liasons to a punch-up, providing a great bit of meat to sink my teeth into. However, my optimistic outlook wasn't to last. I quickly discovered the opener is merely the calm before the storm – a storm that is relentless and gut-punching, that will leave you mentally traumatised as it blends sex and death to a point where the two collide with disasterous consequences for those involved. Brunell was right to warn me. BLACK DEVIL SPINE is the most frightening thing I've ever read and puts even the most violent horror movie to shame.
Whatever you know about S&M, this book seems to take it further. It pokes fun at the idea of "toys" and "play", terms associated with fetish enthusiasts, and shows that true pleasure through pain is no joke. It's real and, if done correctly, is something beautiful and totally satisfying. A work of art, you could say. 50 Shades of Grey this is not.
Despite my experience with other sexually violent novels, I realised I wasn't as prepared as I thought to be pushed in the direction that the plot of BLACK DEVIL SPINE leads, though Brunell structures the horror elements well, gradually easing the reader into the material before it turns into a fictional living nightmare. When it comes, the violence is brutal and unwavering though never presented in a positive or glorified light by the author. It's purely factual on paper whilst leaving the characters to give their own verdict on the events. It is here where the real terror is unleashed. The characters responsible fully believe in their actions but not in a cinematic, unstoppable brainless villain sort of way. To the characters on the page, their actions are normal and reasonable, a view point most likely shared by history's real-life serial killers, which is what makes the events which unfold that more terrifying. What makes matters worse is that in a warped way, I could understand their reasoning and mindset even though I inherently disagree with it to a point of repulsion. This is what Brunell excels at. Making realistic characters you can understand, despite how awful their actions and lusts might be, and retaining that humanity no matter how depraved it appears to you and I.
There have been many times I've had to put this book down for a breather due to the content, despite my love for Brunell's writing. However, it's his writing, with its captivating style which fluidly moves the plot along, which led me to re-reach for the book to read another chapter. But it was hard. Having been given nightmares by Brunell's previous horror work Nothing Men, which is cunningly referred to in this book by the character Dan Gere, Black Devil Spine sent me to the edge and over it. It makes Nothing Men look like a pleasant afternoon stroll in the park. Once again, the horrors are unflinchingly real but those depicted in Black Devil Spine will leave you reeling. Early on in the book, there's chance to gain relief with Dan's affection for longtime friend and sexual tease Jessica offering a welcome distraction, but as the book develops, these light-hearted moments become less and less until there's just no reprieve, leaving the reader stuck with Springer and Gere and forced to endure the most traumatic scenes I've ever laid eyes on.
Though a book I certainly do not wish to revisit, I have nothing but praise for its author, Doug Brunell, who, time after time, manages to craft the written word into a thing of beauty. What utterly captivates me with his writing is the realism, the unadulterated rawness it contains and how ever much the content makes you sick to your stomach – and it does, many times over – you will not be able to resist the literary charms of Brunell's engaging writing style. Like a pianist tinkling the ivories, his writing draws the reader in and you can't help but appreciate his skilful use of language to tell a convincing story. This makes a fine juxtaposition as the paragraphs describing the heinous acts that follow will sicken you to the core and cause you to drop the book in disgust.
Can I recommend this book? Tough question. For the writing, without a doubt. For the content? Well, as long as you are prepared to be pushed right to the very edge of your sanity and have a stronger stomach than you anticipate, you might be ready for the horror that Doug Brunell has in store for you. This is a horror novel like no other and is a journey of discovery to the darkest depths of the depraved soul rather than a novel that can be 'enjoyed' in the traditional sense. You have been warned!
Now then, Doug. How's about writing about fluffy kittens next then, yeah?
Rating:
Save
Save
Save
Save
Save