The Forlorned (2016)
Directed by: Andrew Wiest
Written by: Angela Townsend, Ryan Reed
Starring: Colton Christensen, Cory Dangerfield

UK Release Date – TBC
A historic murder mystery, a sinister light house, and a house plagued by strange goings on; these are some fairly solid elements to include in a ghost story. Add in an isolated island house in Nova Scotia and a caretaker doing restoration work that may drive him stir crazy, and things could get interesting. However as usual this is all totally dependent on the execution, and in that department things are a little less stable. Prepare yourself for a tale of creepy Nineteenth Century horrors, carpenters losing their marbles, and confounding modern day green-screens.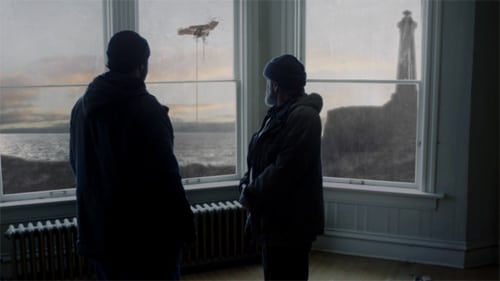 Tom (Colton Christensen) has taken the job of restoring the old island property so he can focus on things after his father's death and raise enough money to buy back some of his property. It's soon pretty obvious that the place has a shady past, with several previous residents having met their demise in strange circumstances. Mainland pub owner Murphy (Cory Dangerfield) is all too happy to tell him about this immediately after he's taken the job. It's not clear why he thinks this is helpful information, but he proceeds to tell him all about the place and how it has a tendency to drive people crazy. Perhaps it's just his way of being friendly, and he gives Tom advise on not losing his mind before making a sharp exit.
Strange sights and sounds begin to occur almost straight away, and all the dolls apparently owned by the previous tenant's daughter are not going to help him get a good nights rest. However it's here that the tone of things to come is revealed, as Tom remarks 'who does this?!' on seeing all the toys arranged to face his bed. A little self aware humour goes a long way, and his general attitude adds some likeability to the central character. Of course whether this light hearted approach to things is intentional is up for debate, as things elsewhere can be pretty dry and stoic.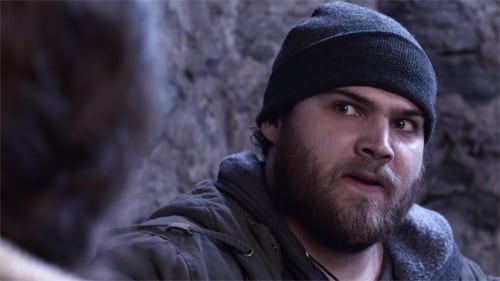 There are a lot of weird occurrences for Tom to endure as things progress, and after a quick DIY montage things start to get more intense. Local birds seem to fly into the building for reasons that are never explained, and Tom finds himself splattered with seagull blood and tormented by creepy sounds in the building. This is before he starts to hallucinate and have nightmares about things that happened both in recent history, and in the 1880s. These parts with just him alone, suffering a variety of silly visions and poltergeist style phenomena are the strongest elements. So it goes without saying that the rest of the ingredients often let the side down.
For one thing all the other characters seem to be here to just provide lengthy, drawn out exposition that lack any interesting flashback visuals or real dramatic tension. Both the pub owner and its one patron want to do this at the drop of a hat, telling tales of suicide and camping trips gone wrong. There are a very small number of supporting actors but everyone, whether they're alive or not, seems intent on giving out this kind of information. There is some attempt at an actual mystery beyond all this, but it's not really strong enough to carry the narrative to a satisfying conclusion.
The unexplained parts are much more interesting, while they last. There are scenes of cannibalism, marooned sailors, and visions of farm animals running amok. Cabin fever is always fun, and while of course this isn't The Shining, it's mostly entertaining while it lasts. Tom comes across suspicious cakes and less than clean drinking water. However like many stories of isolation, things fall down when other characters are introduced and things have to return to telling an actual story. The finale kind of spoils the fun, with an unconvincing conclusion that throws in things like a demonic possession which just doesn't work, and it feels rushed or tacked on. It has it's moments, and looked at as a silly haunted house comedy there are a few things to enjoy. But overall it's a mixed bag that diverges from what actually works a bit too often.
Rating: