Looking Glass (2018)
Directed by: Tim Hunter
Written by: Jerry Rapp
Starring: Ernie Lively, Marc Blucas, Nicolas Cage, Robin Tunney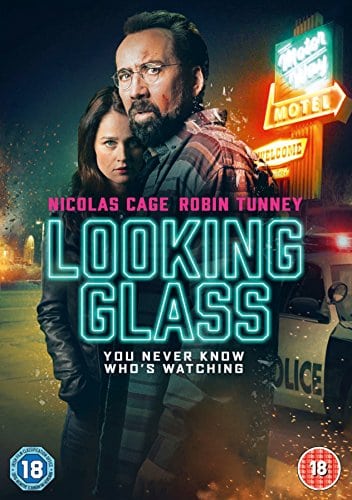 LOOKING GLASS (2018)
Directed by Tim Hunter
A couple grieving for the loss of their young daughter decide to make a fresh start by relocating and embarking on a new opportunity; owning and running a roadside motel. Discovering the original motel owner has made a quick exit, offering the briefest of phone calls only to welcome them, Ray and his wife Maggie are left to get acquainted with the motel business. Whilst exploring the site and rooms, Ray comes across a secret tunnel that leads to one of the rooms and a two way mirror peering into the bedroom of room 10. Curious and sexually frustrated, Ray decides to take a peek at the occupants and isn't disappointed by the goings on in the bedroom. However, he seems to have bitten off more than he can chew when one of the occupants is found murdered after checking out of the motel. Knowing who was with her on the night she left, Ray decides to try and discover the killer himself without divulging his dirty little secret.
Everyone's favourite actor Nicolas Cage is back sporting a suspiciously black beard as new motel owner Ray in thriller LOOKING GLASS. Partly a motel drama, detailing the mundane tasks that come with running such a business, the film follows Ray and Maggie and their broken relationship as they look to make a fresh start with their new life as motel owners. Though Californian desert living isn't necessarily all it's cracked up to be.
Looking potentially as seedy as the motel he's just acquired, Ray spends most of his nights peeping through the blinds of his office, engaging in small talk with the horny lorry driver and staring at the blonde who's staying in one of the rooms. His wife Maggie is completely oblivious to her husband's peculiar activities which is probably a good job as Ray stumbles across the hidden passage leading to the two-way mirror; a voyeur's dream. Though he feels ashamed of what he's doing, Ray can't help himself but his thoughts are soon diverted when a slaughtered pig is found floating in the motel's swimming pool with a photo attached to it. Turns out a woman committed suicide in the swimming pool when the motel was under previous owner Ben, something he neglected to tell Ray. When the beautiful blonde, that was staying at the motel, is found murdered, Ray suspects he may have acquired more than just a motel.
With its attention to life in the confines of a motel , LOOKING GLASS manages to convincingly portray how a normal life goes awry and how you can never know what's going on behind closed doors. From its daily clients and the problems that arrive from bookings, the film captures the seediness of a cheap, roadside motel and it's unsurprising, pervy quirk. I don't think it would be a surprise to anyone that a joint like this one would have a peephole somewhere although a two-way mirror is a bit more creepy to say the least. I liked how the character of Ray, though initially shocked by the mirror, isn't averse to letting his curiosity get the better of him, as I'm sure many would probably do in his situation. Ultimately, his voyeuristic actions could prove the key to the deaths of the motel's patrons. Being set in an authentic, dusty environment adds to the gritty charm whilst a brilliant use of neon blue light effectively conveys the erotic perversion of the the motel's activities.
Nicolas Cage puts in a fine performance as Ray and carries the film well with strong support from Robin Tunney as wife Maggie, Marc Blucas as police officer Howard and Ernie Lively as trucker Tommy. Though the twist may not come as a complete surprise, the movie does like to keep you guessing with its quirky characters and will no doubt keep you watching to the very end.
Rating: