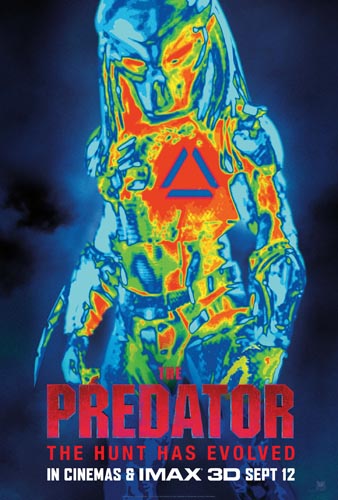 With The Predator receiving its World Premiere at the Midnight Madess section of this year's Toronto Film Festival, here is a look back at some of the best gory and thrilling films that have previously have shown at the festival.
Brawl in Cell 99 (2017)
In a career-best performance from Vince Vaughn, Brawl in Cell 99 is a thrilling, violent and visceral film surrounding the story of Bradley Thomas (Vaughn) who is a former boxer and recovering alcoholic trapped in an unhappy cycle which ultimately leads him to jail. This begins a sequence of violent events and some gruesome scenes where Bradley is forced to find the ultimate way to survive against multiple sources of danger.
Dog Eat Dog (2016)
Dog Eat Dog is the story of three men who are all out of prison and now have the task of adapting themselves to civilian life. The ex-convicts are Troy (Nicolas Cage), Diesel (Christopher Matthew Cook) and Mad Dog (Willem Dafoe) who are hired by a mob boss to proceed with the unusual task of kidnapping a baby and holding it for a large ransom. The madness continues when the abduction goes awry and the men find themselves on the run from the mob and the cops. With a vow to stay out of prison out of all costs, the trio does whatever they can to stay out of handcuffs.
Green Room (2016)
Green Room surrounds a punk rock band and a vicious fight for survival against a vicious group of skinheads, after witnessing a murder. The addition of Patrick Stewart playing a white supremacist mobster also makes for an interesting addition to the cast. There are shock and gore gags throughout, which keeps the audience constantly on the edge of their seat and never sure who is going to be killed next. Its horror lies in the reality of its events, making it a strong horror film contender.
The Belko Experiment (2016)
In a twisted social experiment, 80 Americans are locked in their high-rise corporate office in Bogotá, Colombia and ordered by an unknown voice coming from the company's intercom system to participate in a deadly game of kill or be killed. Written by James Gunn, the films surrounds a kill-spree of employees as if it were a multitude of layoffs, bringing a satirical spin to the gore and violence of the film. It's chaotic, manic and also a little bit terrifying.
It Follows (2015)
It Follows surrounds the story of a girl who initially has a normal life, surrounding fun weekends out at the lake with friends and pining over crushes at high school. However, the protagonist Autumn's life changes after a seemingly innocent sexual encounter where she finds herself with the unavoidable feeling that something or someone is following her. It is a film full of suspense, jump scares and quite a few tense moments which made it a great film to showcase at the 2014 Toronto Film Festival.
PREDATOR is released in UK cinemas and IMAX 3D on SEPTEMBER 12th