Deadbeat at Dawn (1988)
Directed by: Jim Van Bebber
Written by: Jim Van Bebber
Starring: Jim Van Bebber, Megan Murphy, Paul Harper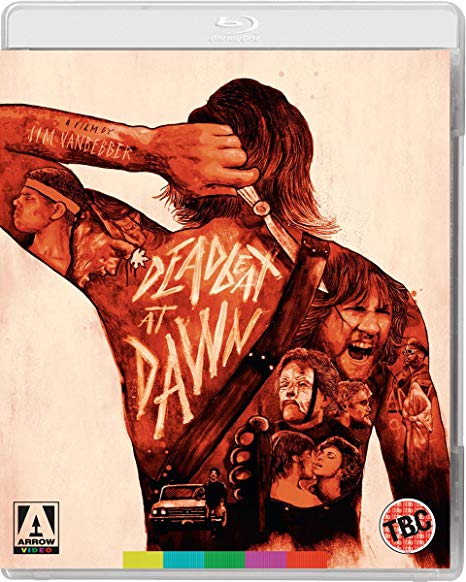 DEADBEAT AT DAWN (1988)
Available from Arrow Video 22nd October 2018
He quit the gangs. They killed his girl. He became… Deadbeat at Dawn. Or so the tag-line for Jim Van Bebber's blood drenched thriller would have you believe. But this isn't a straightforward Hollywood revenge storyline, things are a lot weirder and a lot messier. It's an incredibly filthy piece of work just to look at, and there are also certain visuals that might have been more at home on Arrow's own American Horror Project. But purely as a gang warfare narrative things are a lot less cohesive both in terms of storytelling and the performances that this all hangs on. It's a strange and disjointed eighty minutes to say the least. But is it entertaining anyway? I guess that depends on what you're after. Get your ninja throwing stars ready as we venture into the sinister underbelly of Dayton Ohio…
The first act of the story is certainly the shakiest aspect of the whole film, and potentially something that will put off first time viewers. The grainy 16mm photography is present for the whole thing, as are all the kaleidoscopic scene transitions that sometimes appear. But it doesn't really do a great job of setting up what is going on as the story jumps between our hero Goose (Van Bebber), his girlfriend Christy (Megan Murphy) and a fortune teller, and his scumbag rival Danny (Paul Harper). There are a lot of jarring edits and the immediate inclusion of attempted rape doesn't help the story hit the ground running. But strangely as things progress the film becomes more competent… and also a lot weirder.
The basic premise is that Goose is having second thoughts about his lifestyle choice as a turf war begins to escalate between his gang The Ravens, and their enemies The Spyders. There is at least a taste of things to come as the two factions square off at a local cemetery (a recurring location that was probably nice and quiet for the shoot) and the film makers express their love for nunchucks and severed fingers. But Goose is later convinced by Christy that all of this is a terrible idea. Eventually anyway, he takes some talking into the idea of quitting. So the stage is set for a sudden tragedy as they go through a laughable romance montage and the criminal elements begin to move against them.
The whole 'going straight' trope is very predictable but the execution of this as with most of the plot is very lacking. The point of Christy being interesting in black magic and the occult is never clear since it doesn't reappear later on, and her use of a Ouija(TM) board-game to predict her own demise is too funny to be dramatic. The thing looks like it came brand new from the local toy store. It's also strange that Goose seems to be making a living selling cocaine in dirty back alleys instead of actually making a clean break. But again it's never revisited when things go awry. However this is all about to take a veer into good-bad territory as Danny's goons (who all have great names like Asphalt and Bonecrusher) make a big mess of getting revenge on Goose for his earlier actions.
The secondary characters are what make this a fun experience. You want weird indie film dialogue delivered by odd people that aren't actors? This has it in spades. Bonecrusher himself (Marc Pitman) sets the tone by giving a drug fuelled speech about how much he hates everyone and how much he loves killing. He also likes to talk about how intestines look like snakes, so I have to wonder why the far less interesting Danny is the gang leader. Later on when things go horribly wrong Goose visits his father, another bit part that feels like the actor has dropped in from another planet. He rants about beer in between his paranoid delusions about the outside world wearing only a pair of trousers. Even better the third act offers old ladies yelling about guns and random café patrons declaring that they're having breakfast with 'The Lord'. Why? I have no idea. But these are just a few examples of the Thespian treats on offer as the movie goes off the rails.
Eventually Goose is rescued from his self destructive and suicidal tendencies by his second in command … Keith (Ric Walker). Maybe he was just too cool already to need a scary nickname. Instead of helping him get revenge he demands that Goose helps them during an armed robbery. But of course The Spyders have another angle and their truce during the heist is not what it seems. I give them credit for not doing the same old one man on a quest for vengeance cliché, but some of this other stuff is perhaps too off-the-wall. It's memorable at least as the story becomes a mixture of Warriors style chase scenes and Street Trash style splatter effects. Is that a graffiti sign that just says 'Milwaukee' on it? Did that news reporter say this was a teenage gang? Was that a store advertising cold beer and worms?
It's best to just sit back and let the madness wash over you as the movie takes multiple detours into the grimiest back streets of the American Midwest. They even throw in an Elm Street style hallucination during one scene before going all out with car stunts and knife fights. It's a rickety and often shambolic piece of work that contains a lot of material that someone must have just thought was the epitome of cool… but there is admittedly a kind of ramshackle charm to it all. And not one bad dummy effect in sight. Their attempt at telling a simple one man against the odds underdog story often fails completely and the characters are all pretty unlikeable. Instead you might find yourself rooting for the director and star as they attempted crazier, gorier, and more dangerous looking sequences. It's strange and sometimes unconventional, but there are times when that's just the right mixture.
Rating:
Notes on the remastered edition from Arrow Video
This was never going to be a masterpiece but the new 2K transfer is much cleaner and colourful than you'd expect from the source material. Interiors are often dark and dingy which adds to the mood but doesn't help the watching experience unfortunately. However exteriors and sequences filmed on the many industrial areas of Dayton are at least fairly clear despite a lot of grain. The film is more impressive during the various gang hideout sequences in which a lot of green lighting is employed to make everything as garish as possible. Goose's nightmare and his random encounter with working girl Iris (Maureen Allisse) have plenty of strong visual reds and blacks, and opening titles are pretty nice looking. All of the various gore effects and action scenes are about as eye popping as you could hope for, which is what counts in this sort of low budget insanity.
SPECIAL EDITION CONTENTS
• Brand new 2K restoration from original film elements, supervised and approved by writer-director Jim VanBebber
• High Definition Blu-ray (1080p) presentation
• Original uncompressed PCM mono audio
• Optional English subtitles for the deaf and hard of hearing
• Brand new free-wheeling audio commentary with Jim VanBebber ('Goose', The Ravens' Gang Leader), actor Paul Harper ('Danny Carmodi', The Spyders' Gang Leader) and guest Cody Lee Hardin, moderated by filmmaker Victor Bonacore (Diary of a Deadbeat: The Story of Jim VanBebber)
• Jim VanBebber, Deadbeat Forever! – a brand new retrospective documentary on VanBebber and the Deadbeat legacy by Filmmaker Victor Bonacore, featuring first-time interviews, super-rare footage, VanBebber's college films and much, much more!
• Archival 1986 behind-the-scenes documentary – Nate Pennington's VHS documentary on a failed Deadbeat shoot
• Outtakes, newly transferred in HD
• Four newly-restored VanBebber short films – Into the Black (1983, 34 mins), My Sweet Satan (1993, 19 mins), Roadkill: The Last Days of John Martin (1994, 14 mins) and Gator Green (2013, 16 mins)
• Jim VanBebber Music Video Collection, featuring never-before-seen Director's Cuts
• Chunkblower – promotional trailer for an unfinished Gary Blair Smith-produced gore-soaked feature film
• Extensive Image Gallery – Never-Before-Seen Stills!
• Reversible sleeve featuring newly commissioned artwork by Peter Strain
FIRST PRESSING ONLY: Collector's booklet featuring new writing by Scott Gabbey and Graham Rae