Trick (2019)
Directed by: Patrick Lussier
Written by: Patrick Lussier, Todd Farmer
Starring: Ellen Adair, Jamie Kennedy, Kristina Reyes, Omar Epps, Thom Niemann, Tom Atkins

TRICK (2019)
Directed by Patrick Lussier
A group of high school friends are celebrating Halloween at a house party when one of the guests, Patrick 'Trick' Weaver, turns psycho during a game of 'Spin The Bottle', albeit with a knife. After slashing his way through the teens at the party, he's finally stopped by one of the three surviving teenagers who stabs him with a fire poker.
Under police custody at the hospital, the face-painted Trick is being treated for his wounds but it seems even that isn't enough to keep the crazed teen down as he manages to escape his hospital bed, and sets on a bloody rampage through the hospital. Cornered, he's eventually shot several times and falls out of a two-storey window onto the road below but when officers, Detective Denver and Sheriff Jayne, arrive on the scene to inspect their handiwork, Trick's body is gone. A smear of blood leads them to the dock where it appears the severely-injured Trick has slipped into the water. With no way to survive the bullet wounds and the fall, Jayne convinces Denver that Trick is dead or soon will be.
Although no body was recovered, Trick Weaver is presumed dead. However, when a mysterious, face-painted teen goes on a slaughtering spree at a local high school disco exactly a year after the incident, Denver suspects that Trick isn't dead after all.
Slasher film TRICK attempts to conjure up nightmares for viewers with its idea of a boogeyman who comes back every Halloween night to wreak terror on those in the neighbourhood. Likened to a demon or evil force, the pumpkin-mask-wearing Trick has become more than just some 'high schooler gone mad'; he's become a name that people whisper to each other on All Hallows Eve. Trick or treat indeed!
A villain, that we know to be flesh and blood, is how we're introduced to Trick Weaver but as events unfold in the film, we begin to question whether he's actually human at all. I mean, if you were shot numerous times then fell out of a window, you'd assume that you'd die and not crawl away, unless you're John Wick, of course. So, like a certain Shape, there's something a bit mysterious about the lean teen that makes you wonder just what it is the police force are faced with.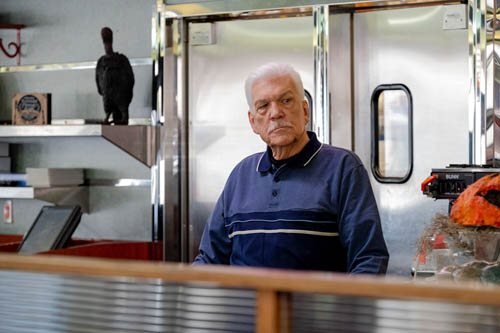 With such an unstoppable killer on the loose, TRICK requires a protagonist who's just as driven as he is: enter Omar Epps as Detective Mike Denver. Denver's compassionate demeanour makes him a likeable character throughout the film as he's determined to solve the case and protect the three survivors, and I suppose the rest of the town, from harm. For a large part of the film, we see him chasing the face-painted ghoul who reinvents himself every Halloween with a different visage. This does nothing to dispel the idea that this is indeed Trick himself and not some copycat. Denver's repeated attempts to convince his superior and those in the force that Trick Weaver, if that's his real name, is actually deceased fall on deaf ears, that is until the bodies start mounting up.
Fans of horror cinema will be ecstatic, as I was, to learn of Tom Atkins and Jamie Kennedy's presence in the movie. Atkins plays a local diner owner who appears friendly with a touch of strict stubbornness, whilst Kennedy plays a doctor at the local hospital. Each have their part to play in the madness that unfolds and have more than just a flickering second of screentime, much to my relief.
TRICK comes across a bit ropey at times with the performances early on in the film appearing rather amateurish, however, as time goes on, it seems the actors become more comfortable in the skins of their characters and things start to feel more natural. Overall, TRICK never really sticks its head above the parapet, both in terms of storytelling or performances, but it seems to embrace this fact and is proud to stalk within its B-movie parameters. Not that this should deter people. There's plenty of bloodletting in this film, with some artistic slashing movements, might I add, that firmly sticks this horror into the slasher category, whilst a helping of inventive deaths helps to give it an edge rarely seen in this genre.
It might not be a standout movie nor feature a memorable villain, but TRICK still has some treats to give if you give it a chance.
Rating: