Inheritance (2020)
Directed by: Vaughn Stein
Written by: Matthew Kennedy
Starring: Connie Nielsen, Lily Collins, Patrick Warburton, Simon Pegg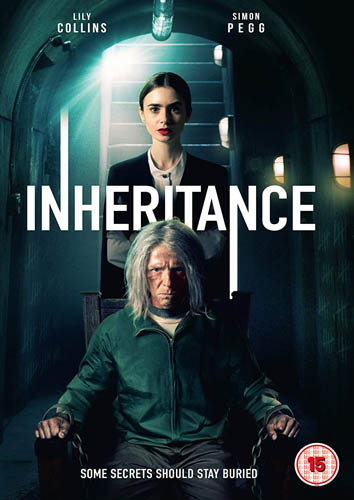 INHERITANCE (2020)
Directed by Vaughn Stein
After her father's death, district attorney Lauren Monroe is dismayed to be left peanuts in comparison to her brother, William, who's running for senator. Knowing she was never the favourite of the two siblings and having been subjected to her father's complaints about being a public lawyer rather than a private one, Lauren is surprised to be handed a secret inheritance – a secret that her father had spent his lifetime keeping and one that could tear the family's life apart.
Thriller INHERITANCE deals with dark family secrets as Lauren Monroe finds out exactly what her father has been hiding all this time. Whilst she's been out taking criminals to court, her father has been keeping someone locked up, deep in the woods in a hidden bunker, and it's none other than Simon Pegg! OK, maybe not Simon Pegg but his character of Morgan Warner, a dishevelled, long-haired, dirty fellow that has seemingly been kept in the bunker for decades. Having entrusted the secret to her and her alone, Lauren must decide whether or not her dad's prisoner is someone to trust or fear, and in turn, the viewer attempts to work out that very same question…
Lily Collins plays the district attorney though her youthful looks have you questioning her experience somewhat. Lauren, as a character, seems to flip flop and can't decide what to do with this inheritance she's found herself with. At first, you think she's of the mind to call the police but it seems that her family and her career come first as she seems more bothered about not tarnishing her reputation than actually freeing the captive in her custody.
Simon Pegg is a revelation, oozing mystery and menace as we've never seen him before. An unsettling performance from the actor most known for his comedic qualities, we can never quite tell what Morgan's motive is. Is he truly who he says he is or is it something more sinister? All we do know is the boy got a hankering for some key lime pie, memorising the recipe for it and reciting it to himself when locked up alone in his bunker. That in itself is enough to give you the creeps. However, with a father like hers, Lauren cannot escape the possibility that her father may have locked this man up to save his own skin, and, doing so, put this burden freshly on her plate to deal with, jeopardising her role as a District Attorney and that of her brother's (Chace Crawford – The Boys) who's currently seeking election. Should news of this secret prisoner get out, it would cripple her family name, lives and careers forever. Or has Morgan done something to deserve locking up?
INHERITANCE is intense at times, mainly when Lauren is interrogating Morgan about his identity and relationship to her father, which takes place inside the claustrophobic setting of the dimly lit bunker. Pegg manages to portray a vulnerability to Morgan as well as a cunning edge, and I was truly wondering which direction events might turn though one particular plot point I had guessed and it's likely others will too. That doesn't lessen the suspense though. However, I did question why Lauren would put her family life on hold for this man in scenes where we see her miss her daughter's recital and miss time at home with her husband and child. I would have liked her to have had more of an internal breakdown at having to deal with this unwelcome inheritance rather than watch her be manipulated so easily by a man who's intimate knowledge of her family could be genuine or a play.
A taut, cat-and-mouse thriller, INHERITANCE had me on the edge of my seat and even though the ending wasn't the payoff I was hoping for, the journey to get there was entertaining enough to keep me watching to the end.
Rating: