Do you spend ages browsing through the list of movies on streaming platform Netflix looking for something scary to watch? Well, now you don't have to.
I've put together a selection of the best horror movies on Netflix right now that you need to watch – from folk horror to bloodthirsty slashers, there's something for everyone.
Gerald's Game
Based on a story by Stephen King, Gerald's Game stars Carla Gugino and Bruce Greenwood as married couple Jessie and Gerald. The film, by Mike Flanagan (The Haunting of Hill House and The Haunting of Bly Manor), sees the couple go away to a remote cottage for the weekend to try and rekindle their relationship, but, when a kinky bit of foreplay goes wrong, it turns out to be the worst decision they could have made.
Gerald's Game is a tense, nail-biting affair with Gugino outstanding in the role of Jessie who pretty much carries the film. Flanagan regular Henry Thomas also has a supporting role.
Though a psychological thriller, this movie has a scene that isn't for the squeamish amongst you! A firm favourite here at HCF.
Midsommar
The A24 folk horror movie from Ari Aster, Midsommar stars Florence Pugh in the lead role of Dani who's grieving the loss of her parents. Her boyfriend Christian and his friends are invited to a midsummer festival in Sweden by their friend Pelle. Though he was on the verge of breaking up with Dani prior to her parents' deaths, he reluctantly invites her to join them on the trip for a festival that will change all their lives forever.
If you like a horror with a story, then Midsommar will be right up your street, though it does have some visual surprises up its sleeve.
Ideal for fans of The Wicker Man and other folk horrors, Ari Aster scores yet another triumph after scaring audiences with Hereditary.
Candyman (1992)
Forget about the remake. The 1992 horror film Candyman starring Tony Todd in the titular role is the definitive version of the film, complete with haunting score by Philip Glass.
Based on the story The Forbidden by Hellraiser author Clive Barker, Candyman stars Virginia Madsen as grad student Helen Lyle who's researching urban legends. She comes across the story of the Candyman, who's said to appear and kill anyone who says his name five times in front of a mirror. With her friend Bernadette, Helen visits the Cabrini Green projects to learn more about the urban legend but gets more than she bargained for.
The film, written and directed by Bernard Rose, is a captivating slice of horror cinema that holds its place in the genre as one of the greats. It's not as grisly as some of its contemporaries but its mythology and style makes it one of the horror classics that needs to be seen!
The Blair Witch Project
Often imitated but never bettered, The Blair Witch Project was the film that broke the mould and was the first horror to cleverly utilise the internet in such a way to feed the frenzy of the movie.
Pushed as a true story despite it being a work of fiction, The Blair Witch Project is about three filmmaker friends who go missing in the woods of Burkittsville, Maryland whilst shooting a documentary about the local legend of the Blair Witch.
Shot on handheld cameras, the film is extremely effective at creating panic and an overriding sense of doom as strange things start to happen in the woods. Knowing that the teens are missing from the start means the viewer is on edge as to what may be out there, trying to pin point moments in the footage the trio captured ahead of their disappearance.
The outstanding success of the film resulted in two sequels, Book of Shadows in 2000 and Blair Witch in 2016, whilst in 2022 there's been talk of the film have a resurgence. Whether this will be a reboot or another sequel remains to be seen.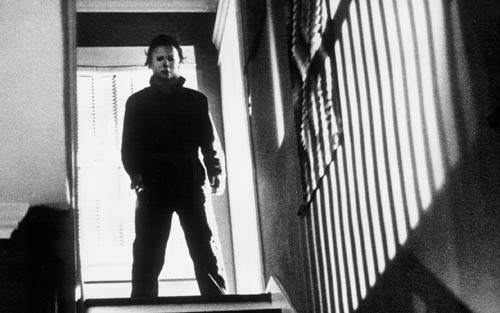 Halloween (1978)
The film that introduced us to The Shape, John Carpenter's slasher Halloween is a horror staple that spawned numerous sequels and remakes. Despite the efforts of Rob Zombie and Blumhouse to reinvent the franchise, nothing holds a candle to the first film as we see Jamie Lee Curtis take the role of babysitter Laurie Strode who finds herself up against the seemingly unstoppable killer that is Michael Myers.
After breaking out of the asylum, Michael Myers returns to his hometown of Haddonfield where he murdered his sister 15 years previously. Hot on his tail, can his psychiatrist, Dr Loomis, stop Michael from slaughtering the teenagers of Haddonfield?
Not only is Halloween one of the best horror movies on Netflix right now, but it's one of the all-time horror classics!
Sinister
A creepy supernatural horror film starring Ethan Hawke, Sinister tells the story of a struggling real crime author (Hawke) who finds a load of old film reels in the attic. Sitting down to watch them one by one, he witnesses recordings of deaths of the numerous families who lived in his property years previously. With each film he views, the more he begins to fear for the safety of his family and decides they should pack up and move house, but is it already too late?
Co-written and directed by Scott Derrickson with co-writer C. Robert Cargill, Sinister is effective at unnerving the viewer, especially with its Super 8 home movie tapes that chill to the core.
Hostel
In Eli Roth's horror flick Hostel, we see a group of American guys head to Bratislava, Slovakia for a bit of fun who end up getting more than they bargained for when they hook up with the local ladies.
Prepare yourself for torture as this story takes a more visceral approach compared to the other films I've mentioned above. Not for those with a weak stomach, Hostel puts its characters into a nightmarish situation that will surely scare off many youngsters who may be travelling around foreign countries.
Writer and director Eli Roth said to have got the idea for the film after seeing an advert where people were selling their relatives to be killed! Frightening!
Outpost
The horrors of World War II rear their ugly head when when a group of modern day mercenaries come across more than they bargained for when they discover an old military bunker in Eastern Europe.
What starts off as a simple mission turns into one of survival as the group of hardened mercenaries face their toughest enemy yet.
Part action, part horror, Outpost plays on a supernatural angle for its intriguing plot and seems to have lots of fun doing so. The way in which it slowly unfolds is brilliantly done to maximise the impact before all hell breaks loose.
Though not as hardcore as some of the horrors mentioned here, it's blend of action and horror is balanced nicely for a bit of popcorn fun.
The Witch
Before there was The Northman and The Lighthouse, Robert Eggers' debut movie The Witch took the horror world by storm, as did its hellish goat Black Philip.
Starring Anya Taylor-Joy, the film follows a family of seven from the North of England living in New England, USA in the 17th century. Cast out of their community, they find a location nearby next to some woods in which to build their own home and live off the land. However, when a tragic incident occurs, the family find their lives spiralling downwards. Could it be down to a wolf, a witch in the woods or is the culprit someone closer to home?
The Witch is a folk horror that plays out in a very subtle but effective way with unnerving scenes and sense of menace lingering over the family like a storm cloud. The young cast involved give it their all whilst Ralph Ineson and Kate Dickie as their mother and father play the desperate, strained couple beautifully.
Which are your best horror movies on Netflix?
Let us know in the comments below.