Prime Video has revealed a first look at the characters and cast behind the brand-new prequel series The Continental: From the World of John Wick.
Those involved shared their quotes ahead of the SAG-AFTRA strike.
To celebrate this first look, award-winning illustrator Yuko Shimizu treats fans to a special piece of fan art. "I'm a huge John Wick fan so being approached by Prime Video to collaborate on this project was truly an exciting opportunity. The Continental Hotel is such a vital part of the John Wick franchise, and so with this art I really wanted to showcase it as the main character of the story, as the show does so brilliantly and to hint at what's to come for audiences. There's danger, there's intrigue, there's drama – all things waiting for viewers to discover as they cross through The Continental's doors and watch Winston's origin story unfold." – Yuko, Shimizu, illustrator.
The three-part series will explore the origin behind the iconic hotel-for-assassins, wPrimhich is the centerpiece of the John Wick universe. The show will be seen through the eyes of a young Winston Scott, as he's dragged into the hellscape of 1970s New York City to face a past he thought he'd left behind. Winston charts a deadly course through the hotel's mysterious underworld in a harrowing attempt to seize the hotel where he will eventually take his throne. The Continental: From the World of John Wick will become an additional series included in the Prime membership. Prime members in UK & Ireland enjoy savings, convenience, and entertainment, all in a single membership, for just £8.99 per month or best value £95 per year.
Colin Woodell steps into Ian McShane's shoes to play young Winston, while newcomer Ayomide Adegun takes up the mantle of Charon from the late Lance Reddick. The series also stars Mel Gibson, Mishel Prada, Jeremy Bobb, Ben Robson, Nhung Kate, Jessica Allain, and Hubert Point-Du Jour. Fans will love The Continental 'because like the Wick films, it's a wild, fun ride and it's unique, it's colorful, it's bold, it's sonic, it has a cast of characters that you're not going to find in normal movies because of the world that we're in." Albert Hughes, director and executive producer.
Meet the cast of The Continental…
WINSTON SCOTT
Played by Colin Woodell
Who is Winston Scott? Handsome, smart, cool, and collected, Winston is a savvy businessman who thinks outside the box. After a traumatic event put him in the crosshairs of the law, Winston was working as a successful businessman in London, when an underworld kingpin from his past, Cormac, sends him on a quest to find his estranged brother, Frankie.
Colin Woodell: "The Continental is a prequel story to the John Wick films, and if you have any familiarity with those films then you'll know that this is a great introduction to the world. It's about 30 to 40 years prior to when the films take place. We have all the producers from the films, so we have them overseeing and there is a really strict continuity to honour those and the style that they have in them. But what's also wonderful is, this is the '70s, so it is going to be stylistically different."
Kirk Ward, executive producer and co-writer: "I remember the day we did a camera test. Albert [Hughes] and I were looking through the monitor, like, 'This guy is a movie star.' And it's those eyes. When you look at Ian McShane's eyes, there's this depth and sadness—there's a big story in those eyes. It's a tough thing for Colin because it's big shoes to fill, right? How do you tell a story about a character that we know nothing about? But it just had to be Colin."
CHARON
Played by Ayomide Adegun
Who is Charon? When we meet young Charon, he is a trusted assistant to Cormac. Over the course of the event series, Charon's loyalties will be tested and he'll need to pick between his protector and a potential found family. 
Ayomide Adegun: "Charon grew up in Nigeria with his father, and he's not from a wealthy background at all. He comes from a rich Nigerian culture, which is based on respect and loyalty. I think him choosing The High Table is to better his life. It's just the search for stability and a better quality of life—I feel like that's always in the back of his mind. Lance Reddick's performance definitely inspired me. I think he was a great guy and actor. I've tried to see it from two perspectives. I could either see it as loads of pressure on me and crumble under that, or trust that my interpretation of the character will align with Lance Reddick's portrayal of Charon."
Basil Iwanyk, executive producer: "Lance Reddick has left big shoes to fill. That character was the classic character that you discover in filmmaking where on the page he wasn't a big presence, but in the film, he's a gigantic presence. Because a lot of what Charon does is kind of react, and we see things through his eyes. He's not a verbose character. And so what we needed for that actor to play that, to fill those shoes: Someone that had a presence, had a dignity, had a nobility. Someone who is inscrutable, so you weren't sure where his loyalties lie, or whether he agreed with what was happening. And also someone that had chemistry with Winston. Because as we learned in John Wick 4, they were very, very close friends. In some ways, he was probably Winston's only friend in the world, and the loyalty there was incredibly deeply felt and emotional."
CORMAC
Played by Mel Gibson
Who is Cormac? An intimidating force, ruthless, brutal, yet capable of charm, Cormac is a New York City kingpin who is the current manager at The Continental Hotel. Cormac has a history with Winston and Frankie Scott, and when Frankie steals something of immense value to Cormac's superiors, Cormac drags Winston back into the criminal underworld. We'll follow Cormac as his desperation mounts and his lunacy and anger boil over. 
Mel Gibson: "He's kind of like [Winston and Charon's] mentor, or actually, mentor or tormentor, I'm not sure which. But he's rather a nefarious character who's like a father figure to them, and they perceive him that way when they're young, but as they grow and begin to analyse who he really is, they realise he's probably not the father figure he pretends to be. He's pretty selfish in his own motives, and has used them in an ill way, and I think they're burned by that and they want to get even. Rightly so."
Basil Iwanyk, executive producer "The Continental that we meet in the TV show is probably one of the worst Continentals in the world. It's decrepit, it's corrupt, it's messy. Cormac, who's running it, is amoral and vindictive, and it almost mirrors the soul of New York, which is collapsing in on itself."
KD and MAYHEW
Played by Mishel Prada and Jeremy Bobb
KD is a detective in the NYPD with no patience for the corruption that riddles the force. Determined to uncover the criminal goings-on in the city, fuelled by a personal agenda of her own, KD will stumble into the world of The Continental and ultimately come face to face with a ghost from her past. 
Mayhew is also an NYPD detective and KD's superior, though there is more to their relationship than meets the eye. Married with kids, Mayhew has a soft spot for KD, and warns her in no uncertain terms to stay away from The Continental Hotel.
 Mishel Prada: "KD really follows the scent of justice, follows the scent of Frankie, follows the scent of what she's been looking for, and it's not business anymore, it starts to become personal. KD is not somebody that really follows the rules. So, when she's told, 'Don't go in [The Continental], that's not for you,' the first thing she's going to do is go in there."
"The relationship with KD and Mayhew is all about power dynamics. These two people have been disempowered by life, and they're constantly, every scene that they're in, there's a battle of who is the one on top. And I think with KD, that is part of what starts propelling her towards really re-empowering herself and feeling like she can be in control of something, because that is really important to her, to not feel that life is happening to her, to feel like she's happening to life."
Albert Hughes, director and executive producer, on Mishel as KD: "Mishel Prada is just special. She was just so smart about her choices every single day. She brought weight to the character. We're in this make-believe world of escapism and she grounds it. You need this kind of gumbo of flavours. And I think she's actually the heart and soul of the series. She's truly the pulse of what the story really is about, but you'll have to stay tuned for Episodes Two and Three to find out."
FRANKIE and YEN
Played by Ben Robson and Nhung Kate
Who is Frankie? Frankie is Winston's older brother and a natural-born killer. While Winston became a successful London businessman, Frankie enlisted in the army and was sent to Vietnam. Upon returning stateside, Frankie becomes one of Cormac's most trusted men, before stealing a priceless object from the heart of The Continental Hotel, setting in motion a plot that will reunite him with his brother Winston. Little does Frankie know that his act of defiance will alter the power balance of The Continental Hotel for years to come. 
Who is Yen? Yen is Frankie's wife, who is prepared to endure any hardship to be with him, including living underground and off the grid after he steals something that puts them both in grave danger. Deeply suspicious of everyone, Yen is shocked to learn that Frankie has a long-lost brother, Winston. A fierce fighter who will stop at nothing to protect those she loves, Yen represents second chances and found family. She is also the deadliest fighter of the entire group. 
Ben Robson: "Frankie has such strong values towards family, at a time when it was really difficult to keep family together. He really showcases what he's willing to do for his younger brother in Winston, and how much he goes through to give Winston the best chance at life. The whole reason he did everything he did was to protect Winston and keep him out of the very world that he's re-entered."
Robson on the relationship between Frankie and Yen: "You've got two people who come from two very different worlds, both very misunderstood, both trying to find that place they belong. And when they do find one another, they have to overcome a lot of obstacles—different cultures, different languages—but they have a common language, of war. That's their real connection to one another; they're masters of it in their own ways. They're both quite tortured as individuals, and the only time they feel at ease is in one another's company. And so when anything tries to get in the way of it or rip it apart or threaten it, you see very quickly this trained animalistic nature within the two of them that will do whatever it takes to protect the other one, not just themselves."
Nhung Kate:"She's motivated by love and by revenge. When she realises that she can beat up anyone that's hurt her, it gives her the strength to carry on. Frankie to Yen is like the light at the end of the tunnel. The relationship between them is very, very passionate."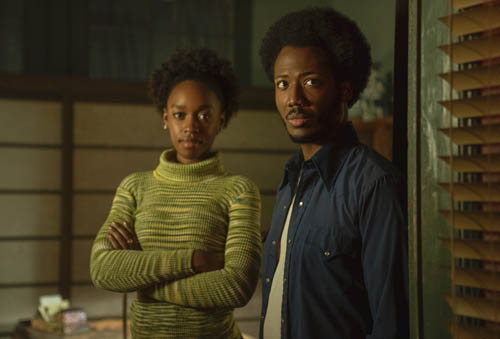 LOU and MILES
Played by: Jessica Allain and Hubert Point-Du Jour
Who is Lou? Smart and fearless, Lou is an expert martial artist who runs the dojo that her father left to her and her brother, Miles. Unfortunately, the dojo is a money pit, and Lou must reluctantly agree to work with her brother in his dangerous gun-running ring. Ever the pacifist, Lou refuses to use guns, but that creed will be put to the test.
Who is Miles? Tough, loyal, and smart, Miles is a Vietnam vet who got into gun running while abroad fighting a war he didn't want to be a part of and for a country that didn't respect him as a Black man. Miles runs guns with fellow vets Frankie and Lemmy, and his reluctant sister, Lou. Miles justifies his dangerous business as the only way to keep his late father's dojo doors open.
Jessica Allain: "Lou grew up in New York without a mother in the home and had to be tough! Burton Karate is the only constant in her life and defending her family business is an endless fight. Martial arts is her only escape, a release from the hardships she's had to face with losing both parents. A love hate relationship with her brother Miles brings her to The Continental, a place she associates with a world she's tried to avoid her entire life. A young lady who tries to uphold righteousness, but somehow always ends up with a hand in the criminal underworld."
Hubert Point-Du Jour: "Miles is the weapons master because he spent a lot of time in war—this show takes place in post-Vietnam by a couple of years. In the war, he picked up a lot of skills and understanding with weapons. His skills end up becoming very useful to Winston …"
The Continental: From the world of John Wick will be available to international audiences (outside of the US) on Prime Video in September