Axe Giant: The Wrath of Paul Bunyan (2013)
Directed by: Gary Jones
Written by: Gary Jones, Jeff Miller
Starring: Amber Connor, Dan Haggerty, Jesse Kove, Jill Evyn, Joe Estevez, Kristina Kopf, Thomas Downey, Tim Lovelace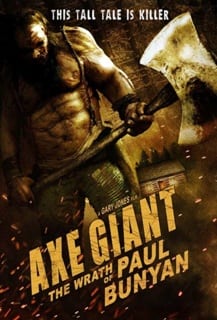 Axe Giant: The Wrath of Paul Bunyan (2013)
(15) Running time: 90 minutes
Director: Gary Jones
Writers: Jeff Miller, Gary Jones
Cast: Joe Estevez, Dan Haggerty, Thomas Downey, Amber Connor, Tim Lovelace, Jesse Kove, Kristina Kopf, Jill Evyn
Reviewed by: Matt Wavish
Oddly enough, Axe Giant: The Wrath of Paul Bunyan does indeed involve a giant carrying a massive axe, and fans of b-movie monster flicks just might find some enjoyment here. However, those of you who cannot stand anything churned out by The Asylum, or even the SyFy channel, had best stay well clear, for Axe Giant is a pretty poor offering, albeit one with a small sense of humour.
The film opens with a kind of introduction to Paul Bunyan himself, a freak of nature born as big as a man, he grows enormous in size and will live three times longer than we will. We witness him slaughter some lumberjacks who have killed his favourite Stag, and here the film shows promise and plenty of potential. It was cheap, tacky, but the ideas were strong and thoughts of the first Hatchet film sprung to mind. However, the creativity stops here, and we move on to almost forty minutes of ridiculous dialogue between a bunch of young offenders and their hilarious Drill Sergeant (Downey).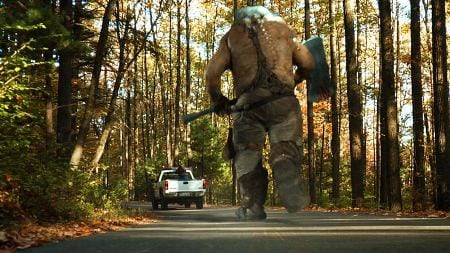 Sergeant Hoke pokes fun at the youngsters, and insults them at every turn, and while it does border on offensive, it is SO stupid that you cannot help but laugh at it. The character build up never amounts to anything, and a camp fire scene where the group confess their sins will have you nodding off. We wanna see Axe Giant action, and boy will you get impatient. The youngsters never make a connection with the viewer, and you will probably care more for the violent monster than you will this sorry bunch of miserable moaners. Thankfully though, Sergeant Hoke just about keeps the interest levels up until Paul Bunyan arrives and begins killing.
The violence from this point on becomes more and more badly put together, with poor lighting, very cheap special effects and horribly designed blood not really having any sort of impact at all. Saying that though, you cannot argue the directors ambition here, and to have a giant standing 20 feet tall attacking a bunch of youngsters takes some doing on a small budget. Camera trickery pulls it off well in some places, while in others it looks awful, but laugh along with it and you just might have some fun. Bunyan also has special powers where he can change size! In one scene he stands bigger than the cabin the friends are all staying in, while later in the same scene he is no more than a few feet taller than the victims. An oversight on the directors part which, in all fairness, is hilarious.
The cast grow more and more irritating as the film goes on, and it becomes fun working out who will die next. However, Bunyan never really gets much development apart from a back story which takes ten minutes to describe, and should have taken seconds. He appears to have some sort of connection with one of the girls, and in one scene he hilariously attempts to pick her up, failing because one man stabs him in the hand. He eventually picks up one of the girls, but it is the wrong one, and like a piece of rubbish he just tosses her to one side. Moments like this make the film a huge amount of fun, but the fun does not outweigh just how poorly made Axe Giant is.
In the final moments we are asked to sympathise with the monster who has been randomly killing people, and it is a bizarre moment where for some God forsaken reason you actually do. Not sure why, but that is the mystery of cheap films, they somehow work when they really shouldn't, and Axe Giant: Wrath of Paul Bunyan annoyingly works, and I hate to admit it, but I actually quite enjoyed the stupidity of it all.
Rating: