A Certain Justice (2014)
Directed by: Giorgio Serafini, James Coyne
Written by: James Coyne
Starring: Cung Le, Dolph Lundgren, Gianni Capaldi, James C. Burns, Vinnie Jones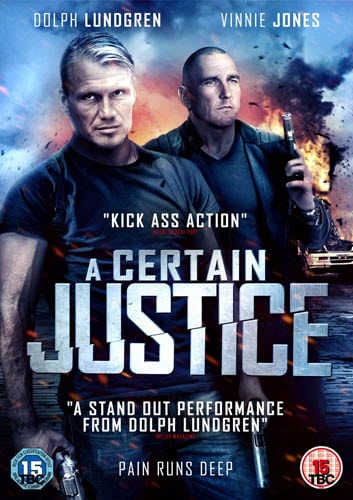 A CERTAIN JUSTICE (2014)
Directed by Giorgio Serafini and James Coyne
When U.S. war veteran John Nguyen helps to protect a woman from a gang of men in a parking lot, he finds himself the main target of gang boss Hollis who retaliates by taking the lives of those closest to John. With his world taken away for him for doing a good deed, John takes it upon himself to use his elite combat training and seek justice against Hollins.
A CERTAIN JUSTICE is an action film led by UFC middleweight fighter Cung Le who's spent the last couple of years starring in movies rather than in the octagon. Cung Le stars as U.S. war veteran John Nguyen, who is finding life back as a civilian in the States hard to adjust to. Suffering from post-traumatic stress disorder, he finds it hard to live a normal life and is taking residence in a grotty motel when he hears the screams of a young woman in a parking lot. Little does he know that what he's about to do will set off a chain of events that will affect him and everyone he loves.
Though A CERTAIN JUSTICE does contain many action scenes, most will leave the viewer underwhelmed. Cuts and shaky cam do nothing to help, but Cung Le fails to impress despite him being a renowned kickboxer and mixed martial artist. His main enemy, Hollins, is played by Dolph Lundgren but he too fails to create a threatening persona with a dubious moustache that always looks like it's about to fall off at any second. Vinnie Jones even makes an appearance as drug dealer Bennett though is in a handful of scenes with only around 5 minutes of screen time leaving him quite underused.
The heart of the film is a revenge movie, with excuses for combat inbetween, but when the characters aren't fighting, shooting guns or threatening one another, very little happens. Scenes which are meant to develop the story and characters fall flat, especially with Cung Le's John who struggles to convey a personality that the viewer can empathise with.
Whilst it has its obvious flaws, the movie manages to tell a story from start to finish, but the plot pace feels sluggish in getting there, much like the fight scenes. The only motivation seems to come from those with smaller roles, such as Gianni Capaldi as Hollins' henchman Vin, James C. Burns as the cop with a heart Sgt. Terry Mitchell and the slimy motel owner Carl played by Eddie Rouse. It's the smaller roles that breathe life into the movie, creating characters that you can like or dislike or at least empathise with and who actually outshine the lead stars.
An average action movie with a predictable plot that never manages to explode.
Rating: