Minions (2015)
Directed by: Kyle Balda, Pierre Coffin
Written by: Brian Lynch
Starring: Jon Hamm, Pierre Coffin, Sandra Bullock, Walter Nelson

USA
IN CINEMAS NOW
RUNNING TIME: 91 min
REVIEWED BY: Dr Lenera, Official HCF Critic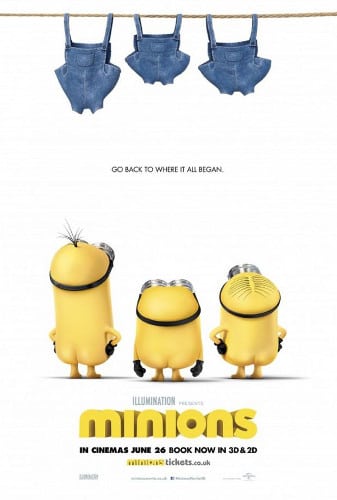 Minions are small, yellow creatures who have existed since the beginning of time, evolving from single-celled organisms into beings who have only one purpose: to serve history's most despicable masters. After accidentally destroying all their masters, they decide to isolate themselves from the world and start a new life in Antarctica, but by 1968 the lack of a master has driven them into depression, so Kevin decides to find a new one. Accompanied by Stuart and Bob, he arrives at New York 42 years B.G (Before Gru), where they learn that Villain-Con, a villain convention where supervillains from around the world gather to search for henchmen, is being held in Orlando, Florida….
Being a big fan of Despicable Me and Despicable Me 2 [both exceptionally fine animated movies], I couldn't wait for the solo movie featuring the funny little yellow tic tacs with arms and legs to come along, as I was possibly laughing louder at their end credits antics than anybody else during the cinema screenings of those two films. Minions was actually foreshadowed in the closing credits of Despicable Me 2, where minions Kevin, Stuart and Bob are seen auditioning for it. The result is an often joyously insane and inventive hour and a half of fun, though it doesn't come near the two Gru-starring features that proceeded it, probably because those films had as much for adults in them as they did for kids and had genuine heart too. Minions does have a few great jokes and references that only someone of a certain age would get, such as a brief semi-appearance by a certain groundbreaking beat combo crossing a road, but by and large it's far more aimed at small children, consisting largely of crazy action as Kevin, Stuart and Bob have adventures in the New York and London of 1968 [and yes, the song soundtrack is as good as it ought to be], battling super villainess Scarlet Overkill and having to contend with all sorts of odd happenings such as Kevin being crowned King Of England.
In fact, after the hilarious opening, seen partly in the trailers for the film, which has the Minions accidently dispatch a Tyrannosaurus Rex, a caveman, an Egyptian pharaoh, a medieval king, a pirate captain, Genghis Khan, Napoleon and Dracula in their search for a master, Minions wasn't very funny at all to this lover of silly animated fare until around half way through when Queen Elisabeth becomes a major character in proceedings. It picks up after that, even if the plot remains very generic and I couldn't help thinking that the minions deserved a better and more original story to be in, while the film doesn't really give us enough of the silly, but extremely funny, slapstick stuff that made us fall in love with these creatures in the first place. Still, optimistic leader Kevin, laidback crooner Stuart and indefatigable ball of joy Bob are fun to be with despite speaking what is largely gibberish with the occasional touch of French, Spanish, Mandarin and probably others. Director Pierre Coffin actually voiced all 89 minions in the film. A comic torture scene briefly returns the movie to the edge of the first Despicable Me, and it's all very fast paced and fun. It just lacks some of the ingredients, most notably the emotional engagement, which made the first film, and partially the second, quite special. I sadly conclude that these banana lovers are better off as supporting characters rather than in a film of their own. Then again, I'm not five years old, even if some may say I seem to find it easy to get into the mindset of one.
Rating: