Black Mama White Mama (1973)
Directed by: Eddie Romero
Written by: H.R. Christian, Joe Viola, Jonathan Demme
Starring: Lynn Borden, Margaret Markov, Pam Grier, Sid Haig |, Vic Diaz, Zaldy Zshornack



BLACK MAMA, WHITE MAMA (1973)
Directed by Eddie Romero
On Dual Format from Arrow Video

After being locked up in a Filipino womens rehabilitation centre for minor crime, revolutionist Karen and hooker Lee manage to escape whilst being transported for questioning. The only problem is the two are handcuffed and chained together so the duo must settle their differences and decide which destination to head for if they're to survive being recaptured and evade the drug kingpin looking for them.
BLACK MAMA, WHITE MAMA is a hoot of a B-movie that sees two fine actresses in the form of Pam Grier (Lee) and Margaret Markov (Karen) paired together to bring us action, comedy and survival in a land where almost everyone wants them captured to claim the juicy reward on their heads. With Lee wanting to escape the Philippines for good with money stolen from her gang boss Vic Cheng and Karen urgently needing to meet up with her gang of guerrilla fighters led by Ernesto, the two warring women have to make their awkward situation work if they're going to get out of their predicament alive and free.
The beginning of the movie is very much a women-in-prison affair with one female guard in particular taking a fancy to the girls under her watch, even to go lengths as to spy on them naked from a peep hole in the wall. It's pretty much your standard lesbian fare which is often associated with these types of movies but the movie doesn't really show much except a nude communal shower scene with a bunch of the imprisoned ladies. When Lee and Karen are summoned to be questioned and transfered to another location, the film suddenly takes an action route as the women become fugitives, on-the-run from almost everyone. This becomes a prime opportunity to create friction between the pairing as well as fuel for comedy as the duo have to find disguises to traverse the land without being instantly spotted in their prison uniforms. It's just as well that there happens to be a convent nearby…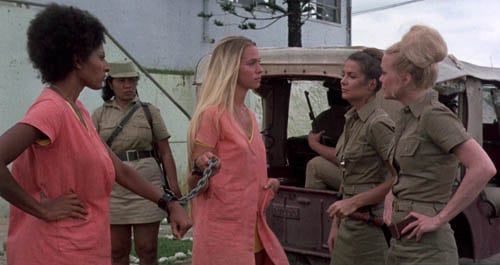 The women's survival isn't the only plot thread to feature during the film. Ernesto's band of revolutionaries and their plans to overthrow the government and make change on the island is a driving force for hopeful Karen whilst Lee knows only too well what would happen if criminal kingpin Vic Cheng gets hold of her and believes Karen's hope is a waste and she should get out whilst she can. The knowledge the women have of these two groups operating on the island means they're vital to the corrupt local authorities and government and both they and Vic Cheng's crew will stop at nothing to capture the ladies before either can escape or regroup with the guerrilla fighters.
In the middle of all this is Sid Haig in a terrific supporting role as local lawbreaker Ruben who's hooker employee seems a favourite amongst the local authorities. With his thick moustache and jazzy shirts, he's one cool character that provides lots of the humour despite his supposed criminal status. He also seems a hit with the ladies though not especially with their fathers. When he's waltzing about town with his blue cowboy shirt on, you could swear that he and Sacha Baron Cohen, as rodeo-attired Borat, are twins! As per usual, Sid steals the scenes he's in and adds a special sparkle to the movie.
Arrow Video's transfer of BLACK MAMA, WHITE MAMA is splendid much like their other recent Pam Grier offerings, with clear original uncompressed mono PCM audio to boot. The Blu-Ray also features new 15 minute long interviews with Margaret Markov, who talks about her career up to Black Mama, White Mama, and with Sid Haig on his various work in the Philippines. There's also an archive interview with the director Eddie Romero, trailer, gallery and commentary with filmmaker Andrew Leavold (The Search For Weng Weng). The dual format release has a reversible sleeve featuring original and newly commissioned artwork by Sean Phillips and comes with a collector's booklet featuring images and writings about the film.
With a funky score, exciting women-on-women and women-on-men scraps, gun shootouts and pecker comparisons, there's so much to love about this movie. The humid setting of the Philippines only adds to its already entertaining charm.
Fans of B-movie cinema will adore what BLACK MAMA, WHITE MAMA has to offer with never a dull moment to be seen during its 87 minutes running time.
Rating:
Save