Tale of Tales (2015)
Directed by: Matteo Garrone
Written by: Edoardo Albinati, Massimo Gaudioso, Matteo Garrone, Ugo Chiti
Starring: John C. Reilly, Salma Hayek, Toby Young, Vincent Cassel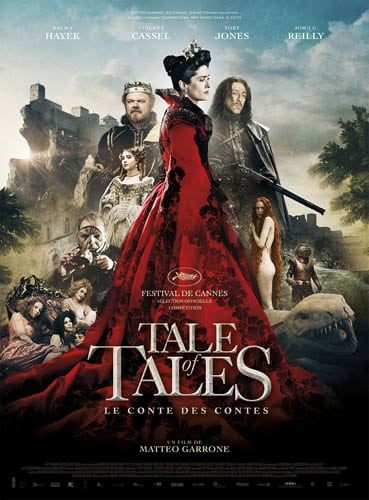 TALE OF TALES (2015)
Directed by Matteo Garrone
Once upon a time there was a Neapolitan poet, named Giambattista Basile, who specialised in fairy tales. But these weren't like those Disneyfied ones your parents told you before bedtime. Yes, the handsome princes, wicked witches and awful ogres were there. But good didn't always win and characters often lived unhappily ever after: suffering, losing loved ones or getting disembowelled in the name of cautionary lessons. Really, the works were not dissimilar to his natural heirs, the brothers Grimm, on a bad day. Sadly these sagas have been largely forgotten by history. Yet this may be about to change, as director Matteo Garrone (most famous for his gritty crime opus Gomorrah) brings some of the f-ed up little fables to the big screen.
Tale of Tales presents 3 narratives from the folk-story compendium Pentamerone. Set across neighbouring kingdoms, each blood-soaked entry introduces us to a monarch struggling to deal with something magical. We first visit the picturesque Longtellis, where an infertile queen (Hayek) raises dark forces to achieve her dream of conceiving. This twisted set of events sees her and her king (Reilly) battle a sea beast, chow down on a still-beating heart and birth something sinister in an exploration of hubris. It starts out like the monkey's paw then ends like a gruesome Prince and The Pauper. The grotesquery is more than matched by hijinks at Strongcliff, where an oblivious king (Cassel) is wrongly smitten with the well-meaning old crow Dora (Carmichael). Mistaken for a witch, she is soon banished in the most direct manner possible, before a genuine sorcerer makes her beautiful. Comedy ensues as the hair and makeup team have a field day, transforming this quintessential old hag into a striking queen. Meanwhile, the king of Highhills (Jones) has an adventure with a surprisingly cute giant flea before accidentally finding a most unsuitable suitor for his maturing daughter. These stories take place side by side, with the movie liberally leaping between them in order to enhance parallels, and prevent us from forgetting any.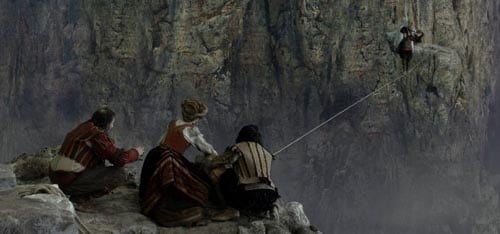 All three tales are fiendishly good fun. And whilst the strength of their allegories may have been lost to time, it is almost refreshing to see something so unashamedly old fashioned. Each is lushly presented, with bright colours, stunning scenery, and tasteful computer effects. As per Terry Gilliam's Adventures of Baron Munchausen, there are equal moments of joy and horror throughout. The comedy is pitch black, with Garrone seeming to take glee in every monstrous creation conjured up. Furthermore, as per the acrobats, that show up every so often, the actors put their all into their roles. Their performances meet the often horrendous events with enough zealousness to keep audiences entertained, yet crucially the pathos to make us care. Young, in particular, shines in his role. The production crew is similarly on point, with perfectly realised props and costumes doing justice to the pastoral mental images viewers would have had as children. Albeit with greater gore and more nudity. The sweeping score is also very well balanced, doing a great job of both conveying delicate sadness plus elevating action to keep it exciting.
Less well balanced is the overall structure. The royals largely keep themselves to themselves, visiting only for coronations and funerals. As such, whilst the stories undoubtedly take place in the same universe they feel very separate. This makes the wider picture seem less coherent, with the extended universe feeling more constrained than it ought to. It also harms some of the second act pacing, since the stories have no bearing on one another and little to connect them. Similarly, the writers flip between the sort of flowery register we'd associate with fantastic tales, and speech that does the bare minimum to drive the plot and arcs. This means the dialogue's tone is inconsistent and often hard to pin down. Consequently, what we're left with is an anthology rather than an ensemble. Yet any anthology is as good as the sum of its parts. And fortunately in Tale of Tales the parts themselves are wickedly enjoyable and very worth of attention. It's a wonderful piece that can invoke childhood without being childish.
Rating: