Suntan (2016)
Directed by: Argyris Papadimitropoulos
Written by: Argyris Papadimitropoulos, Syllas Tzoumerkas
Starring: Dimi Hart, Elli Tringou, Hara Kotsali, Makis Papadimitriou, Marcus Collen, Milou Van Groesen, Pavlos Orkopoulos, Yannis Tsortekis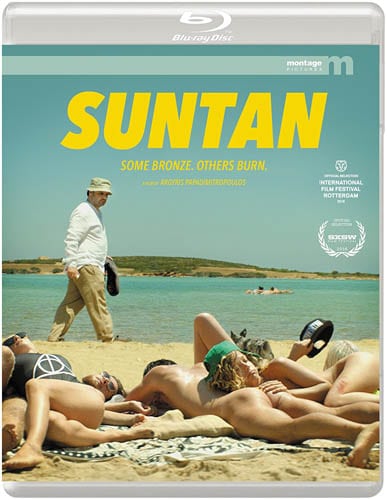 SUNTAN (2016)
Directed by Argyris Papadimitropoulos
Greek and English Language with English Subtitles
Doctor Kostis arrives on a Greek island to become the new doctor of the local surgery. Usually keeping himself to himself, he begins to come out of his shell when young tourist Anna invites him to tag along with her and her four hedonistic friends. Frolicking at the nudist beach by day and partying at night, Kostis is loving the wild, free-living – and free-loving – lifestyle of his new friends but his obsession with hanging out with them, particularly with Anna, starts to affect his career.
SUNTAN is a Greek 'coming of middle-age' story celebrating the thrills of youth whilst highlighting how out of touch one can become by the seduction of it. Told through the eyes of Kostis, a middle-aged guy with no apparent lover or family to speak of, we witness his ultimate downfall as he falls prey to the invigorating rush of youth.
Makis Papadimitriou stars as the shy doctor who's clearly a whizz at his job. His initial arrival to the island is greeted with open arms by the commmunity with local businesses even giving freebies as gratitude for his hard work. Shots of him at the bar in the evening during the Christmas period cut a lonely picture as Kostis appears depressed and in his own little world. Not even local womaniser Takis (Yannis Tsortekis) can cheer him up with tales of tourist pussy come summer. However, it's exactly that which changes Kostis' life when tourist Anna (Elli Tringou) and her friends drop by his surgery with a motorcycle injury. Her flirtation and daft antics of her friends first appears to grate the professional, but when Anna suggests Kostis show them the hidden beaches, he decides he might just do that. Visiting the beach after work, he 'accidentally' bumps into the group of friends on a nudist beach and, despite his awkwardness, they let him tag along with them. Their beach antics flow into the night as they go partying at the local clubs and seeing how free and fun-loving they are really ignites something inside Kostis, particularly the beautiful, flirtacious Anna.
Closing the surgery daily at 3pm, Kostis finds himself addicted to visiting the beach to hang out with his new friends but his newfound pastime begins to affect his career when he chooses to close the surgery on the dot rather than wait 5 minutes and treat an elderly patient waiting with her son. Insisting they come back in the morning rather than staying and quickly checking her over, it's clear that his fondness for partying is blinding him of the things that matter. As the film develops and Kostis' obsession with Anna grows, his career seems to take a nosedive and it doesn't go unnoticed by the locals who quickly retract their offers of 'on-the-house' kindness.
SUNTAN is a tragic film of one man's blindness to what is going on around him. Clearly reliving his teenage years, of which he might never have had considering his training as a doctor, Kostis is seduced by the 24/7 party lifestyle of his new friends but fails to realise that the friendship he has made with them is more courtesy on their part rather than a solid bond that they share between them. His fondness for Anna too is only recipricated in a flirtacious manner however he is too oblivious to see this and genuinely believes that he and Anna have a thing going on, despite the fact she is kissing both the male guys in the group besides him. To the viewer, the five friends are living the hedonistic lifestyle – drink, drugs and sex – as many teens and young adults do on these summer breaks, with their loving as care-free and meaningless as can be. However, Kostis cannot for the life of him see what is in front of his nose and thinks this relationship with Anna and her friends is concrete. To them, it isn't even a relationship; to Kostis, it's everything. When the group disappear from the island for a few days, Kostis goes into meltdown and their return to the island becomes the wake-up call Kostis is unprepared for with chilling results.
Sun-kissed cinematography and authentic locations really emphasise this sorry tale and you can't help but feel for Kostis before pitying how oblivious he could have been at the situation he found himself in. Being used isn't a nice thing to witness but Kostis' ignorance can't be washed away either which leaves him having to sober up to reality, a harsh thing for the viewer to witness.
Whilst the movie works in its long-form, I can't help but feel this would have been more effective with a shorter running time or indeed as a short film for a punchier execution. That being said, the current running time plays into the hands of the drawn-out, inevitable realisation that Kostis refuses to accept.
A troubling peek into a disillusioned midlife crisis, SUNTAN is one that eventually burns.
Rating: