Jakob's Wife (2021)
Directed by: Travis Stevens
Written by: Kathy Charles, Mark Steensland, Travis Stevens
Starring: Barbara Crampton, Bonnie Aarons, C.M. Punk, Jay DeVon Johnson, Larry Fessenden, Mark Kelly, Robert Rusler, Sarah Lind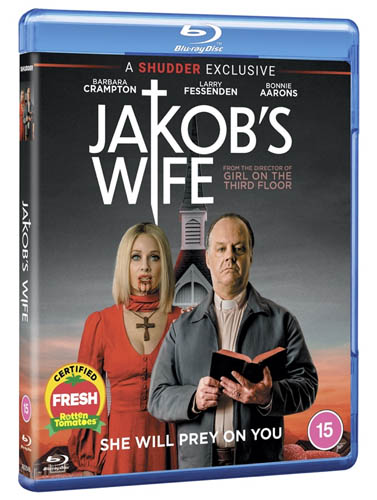 JACOB'S WIFE (2021)
Directed by Travis Stevens
Available on Blu-Ray and DVD
Married to church minister Jakob Fedder for over 30 years, Anne finds herself tired of being the quiet, obedient housewife and yearns for a little excitement in her life. Her prayers are about to be answered when she has a brush with a vampire lurking in a nearby development project she's overseeing. With intense strength, a refreshing lust for life and a thirst for blood, Anne must keep her newfound transformation under wraps as she tries to navigate being a vampire and everything her new life entails.
Originally streaming on Shudder, horror comedy JAKOB'S WIFE has found its way onto Blu-Ray in the UK with a selection of deleted scenes and a making-of featurette.
From director Travis Stevens, who's previous work includes Girl on the Third Floor, the film blends vampiric thrills with the mundane reality of living in a small town where everyone knows who you are. Routines are shattered when Anne is given a new lease of life by The Master, and it's not long before husband Jakob works out that something isn't right with his wife. Wearing low-cut dresses and with a sassy attitude, the church mouse that was Anne has transformed and she's beginning to like the new person she's become and the freedom it's given her. But with this newfound freedom comes a price, and sooner or later the blood trail will lead directly back to her.
Horror icons Barbara Crampton and Larry Fessenden team up as married couple Anne and Jakob. They both present a disjointed marriage of two individuals where one has significantly sacrificed for the other. Unfortunately, Jakob is oblivious to this fact as he talks over Anne and takes her for granted. Soon he realises he must fight for her and their marriage if they're to survive. Whilst this sounds a bit melodramatic for a horror, the way in which it's been executed is wonderfully done. We have Crampton's Anne coming to terms with her new lifestyle, with plenty of humorous scenes where she explores what it entails, whilst Fessenden's Jakob is still stuck in a rut, convinced her change in attitude is down to her having an affair and quick to point the finger. The film shows how both individuals react to this new path they find themselves on, with Jakob torn between his comfortable lifestyle, faith and the woman he loves.
Whilst there's domestic differences occurring in the Fedder household, in the wider community, residents are going missing and it isn't long before reports reach the Sheriff's office of vampires in the area. However, the threat of the head vampire, known as The Master, isn't really emphasised upon until it starts to affect Anne and Jakob's marriage. Though you would think it would be in Jakob's best interest to protect his flock from the supernatural being, it's only when his life with Anne is threatened does he decide that action needs to be taken.
No horror, even if it's a comedy, would be complete without a splash of the red stuff. Though these scenes are few and far between, when the blood flows, it really does!  Necks are sliced and blood gushes over everything and everyone. There's no half measures here. Exaggerated, comical displays of blood spraying everywhere are always appreciated even if contrasting against the film's domestic focus. It's not too jarring though, as there's plenty of laugh-out-loud moments in the film with its tendency for dry comedy so this generous helping of blood sits comfortably alongside it.
At its heart, JAKOB'S WIFE is about a relationship that, for a very long time, has been one-sided. All eyes are on her husband as the community leader and, as his wife, Anne feels a pressure to maintain appearances as a good, hard-working, loving wife of a minister. All the dreams she had has a young woman were shelved for her comfortable, dependable relationship, but she starts to wonder why she should have to give up one for the other. Will Jakob be able to change his ways to include Anne in the relationship in what should be an equal partnership? Will Anne harness her newfound assertiveness and stand up for the life and independence she deserves?
Supporting performances, including Jay DeVon Johnson as Sheriff Mike, Phil 'C.M. Punk' Brooks as Deputy Colton, and The Nun and Mulholland Drive star Bonnie Aarons as The Master, help to craft JAKOB'S WIFE into a neat little horror comedy with a heart.
Rating: